ICYMI - VENOM 2 Carnage Reveal, BLACK WIDOW Taskmaster Reveal and More
Here are the biggest stories for Tuesday, February 18, 2020.
We can't always cover everything. So here's everything you missed this morning. In Case You Missed It (ICYMI).
Warning: May contain spoilers!
Above Image: Humor: Super Moustache |
Redditt - /DC_Cinematic
1. Venom 2 Set Video May Hint at Cletus Kasady's Carnage Transformation | Screenrant
It appears to show Cletus Kasady being confronted by police and transforming into Venom (pre-CGI).
2. Sam Esmail's BATTLESTAR GALACTICA Reboot Might Be Set in the Same Universe as Ronald D. Moore's Series | GeekTyrant
I thought yesterday this was a reboot which would be silly but a sequel could work.
"Sam called me and was very gracious, he didn't pitch me the story so I don't know. But he said his plans and he wasn't going to re-start the show and recast it but he wanted to do something in the same universe. Sam's amazing and I love Mr. Robot. I was like, you know, 'You're an amazing guy and amazing writer, go with god!'"
3. Doctor Who: 5 Worst Things The Doctor Did To Companions (& 5 Worst They Did To Him) | Screenrant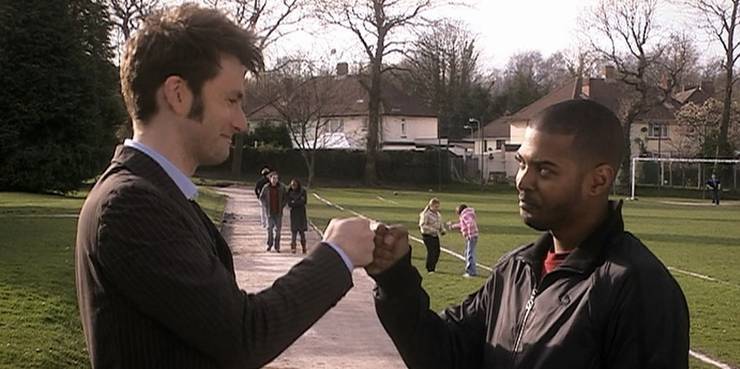 The Doctor is a hero but he's pretty shabby to his companions sometimes. #JusticeForMickey
4. 'Amazing Stories' Trailer Reveals Steven Spielberg's Anthology Series for Apple TV+ | Collider
I love
Amazing Stories
and this could be epic. But is it enough to make me pay for another streaming service? Not yet.
5. Venom 2 and Morbius Get Further Connected to the MCU in Latest Sony Viral Marketing | MovieWeb
The fictional
Instagram page
for the MCU Eugene "Flash" Thompson (Tony Revolori) shared a fictional newspaper with the title "A vampire in New York". That's apparently a "Morbius the Living Vampire" reference. That or it's a reference to Eddie Murphy's 1995 flop
Vampire in Brooklyn
movie.
This is apparently teasing what Marvel Studios head Kevin Feige described as Spider-Man's "superpower to cross cinematic universes" and the possibility that Sony's "Spider-Verse" could tie more directly into the MCU.
6. 'Black Widow' Promo Art Reveals Full Look At Taskmaster | Heroic Hollywood
Read our
primer
for a breakdown of who he is.
7. Harrison Ford on His Star Wars Return: "I Have No Idea What a Force Ghost Is, and I Don't Care" | io9
8. Moviefone being run by one employee & is worth 1% of its former value | Jo Blo
Another childhood memory destroyed.
9. Colin Trevorrow Reveals Animatronic Baby Triceratops For 'Jurassic World 3' | Heroic Hollywood
10. The Rise of Black Superheroes: A Black History Month Celebration | TV Guide
Most Popular Posts - Last Week
Here are the top five posts from last week
1
5 Horrifying Facts About Seven of Nine's Uniform - The Geek Twins
2
A Brief History of Deanna Troi's Cleavage - The Geek Twins
3
Infographic: 14 Most Popular Marvel Actors By Height - The Geek Twins
4
7 Surprising Facts About STAR TREK: ENTERPRISE T'Pol Costume - The Geek Twins
5
10 Marvel Asian Superheroes Who Should Get Their Own Show - The Geek Twins
Quote of the Day
"Truly wonderful, the mind of a child is." - Yoda
Star Wars: Episode II - Attack of the Clones
(2002)
On This Day: Tuesday, February 18, 2020
On this day:
Pitch Black
(2000) opened in US theaters on February 18, 2000.
The film developed from David Twohy's unused idea for Alien³ (1992) involving a space prison.
Click on the link for more
ICYMI
!
What do you think of today's news and links? Let us know in the comments below!
About the Author
Maurice Mitchell has been a passionate science-fiction fan of movies, television, books, and comics since age five. He and his twin brother Nigel created the site "The Geek Twins" to share that passion. Maurice has written and created infographics for sites like The Geek Twins and About.com. His work has been featured on sites like Business Insider, io9 Slashfilm and more.
Read more of his posts | Follow him on Twitter @Mauricem1972
Note: Some links may lead to an approved affiliate and small proceeds from the sale go to support the blog. Thank you!
If you enjoyed this, then please use the buttons below to tell your friends about this post! Follow us!
Email
|
RSS
|
Twitter
|
Facebook