ICYMI #48 - Casting Call Reveals THE BATMAN Halloween Connection, SONIC Breaks Records and More
Here are the biggest stories for Monday morning, February 17, 2020.
Which MCU director had cameos in Star Wars? What classic comic book is inspiring Matt Reeves'
The Batman?
What box office record did
Sonic the Hedgehog
break? Who knew Superman's secret identity all along? What would it look like if Tom Holland and Robert Downey Jr. were in
Back to the Future
?
We can't always cover everything. So here's everything you missed this morning. In Case You Missed It (ICYMI).
Warning: May contain spoilers!
Above Image: "Captain America: The First Avenger" director Joe Johnston's cameo in the original Star Wars |
Redditt - /MarvelStudios
Joe Johnston was the lead storyboard artist on the trilogy. He also cameoed as a stormtrooper.
1. Casting Notes Reveal Possible "Long Halloween" Storyline | Redditt - /DC_Cinematic
Casting calls for "funeral" and "Halloween Party" filming in Liverpool. There have been rumors that the story is based on the "Batman: The Long Halloween" 13-issue limited series comics by Jeph Loeb and Tim Sale.
2. Sonic the Hedgehog Had the Best Domestic Opening of Any Video Game Movie Ever | io9
"As reported by Deadline, Sonic the Hedgehog opened this week at approximately $68 million dollars in the United States, making it the highest-grossing video game movie ever released, edging out Detective Pikachu, which opened at $54.3 million. Internationally, Detective Pikachu and, surprisingly, Warcraft did a little better, but it's still coming in at around $100 million. Which, for a movie that reportedly cost about $95 million to make, is a great start."
3. DC Confirms Superman's Secret Identity Never Fooled [SPOILER] | Screenrant
Turns out Jimmy Olsen is a better reporter than Lois Lane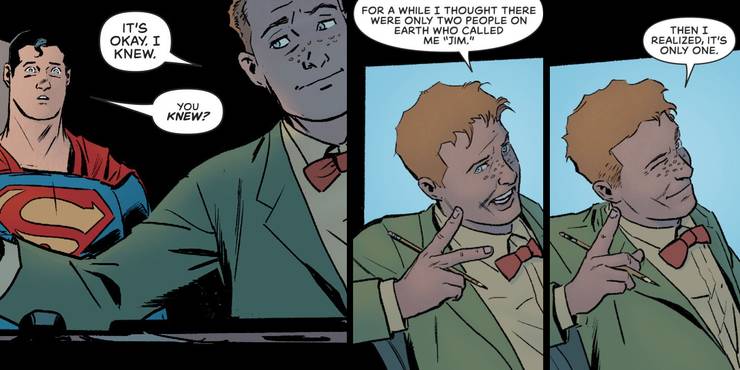 4. THE MANDALORIAN Season 2 Reportedly Adds WWE Superstar Sasha Banks In An Undisclosed Role | Comic Book Movie
5. Ronald D. Moore has spoken with Sam Esmail about Battlestar Galactica reboot | Jo Blo
Not sure how I feel about a third reboot of the TV series. The last one was pretty comprehensive and definitive.
6. MICHAEL PEÑA Doesn't Know What's Gonna Happen in ANT-MAN 3 | Newsarama
"I have no idea [if Luis disappeared or not]. Ant-Man 3 is not going to be shot for another year or so," Peña told The Hollywood Reporter, referring to whether Luis was 'Snapped' by Thanos and then 'Blipped' by the Hulk or not. "After my involvement in the first two Ant-Man movies, we really won't even know what's going to happen until one-to-two months before we film. Right now, Marvel is in a really cool position where they can break hearts by who they bring back and who they don't. But, I'm still interested even though I have no idea what's gonna happen, and I can't wait to find out."
7. This Unsettlingly Accurate Deepfake Casts Tom Holland and Robert Downey, Jr. in Back to the Future | io9
8. VENOM 2: Tom Hardy Shares A First Look At Woody Harrelson As Cletus Kasady In The Sequel | Comic Book Movie
The post is captioned "Hello Cletus" as in Cletus Kassidy / Carnage.
9. Keanu Reeves & Carrie-Anne Moss Reunite In 'The Matrix 4' Set Video | Heroic Hollywood
— marcos vedovetto (@vedoveto37) February 16, 2020
If he hadn't been punked by Ant-Man he might not have thought to bring him in. And Ant-Man saved the day.
Most Popular Posts - Last Week
Here are the top five posts from last week
1
5 Horrifying Facts About Seven of Nine's Uniform - The Geek Twins
2
A Brief History of Deanna Troi's Cleavage - The Geek Twins
3
Infographic: 14 Most Popular Marvel Actors By Height - The Geek Twins
4
7 Surprising Facts About STAR TREK: ENTERPRISE T'Pol Costume - The Geek Twins
5
10 Marvel Asian Superheroes Who Should Get Their Own Show - The Geek Twins
Quote of the Day
"Contrary to popular belief, I know exactly what I'm doing." - Tony Stark / Iron Man
Iron Man 2
(2010)
On This Day - February 17, 2020
Lee Strasberg, the famous acting teacher, and father of method acting in America died February 17, 1982. He was 80. Chris Evans, best known for playing Captain America in the Marvel Cinematic Universe is an alumnus of New York's Lee Strasberg Theater Institute.
Click on the link for more
ICYMI
!
What do you think of today's news and links? Let us know in the comments below!
About the Author
Maurice Mitchell has been a passionate science-fiction fan of movies, television, books, and comics since age five. He and his twin brother Nigel created the site "The Geek Twins" to share that passion. Maurice has written and created infographics for sites like The Geek Twins and About.com. His work has been featured on sites like Business Insider, io9 Slashfilm and more.
Read more of his posts | Follow him on Twitter @Mauricem1972
INSERT Q HERE. Let us know in the comments below!
Note: Some links may lead to an approved affiliate and small proceeds from the sale go to support the blog. Thank you!
If you enjoyed this, then please use the buttons below to tell your friends about this post! Follow us!
Email
|
RSS
|
Twitter
|
Facebook