ICYMI: AVENGERS: ENDGAME Re-Release with New Footage, Doritos Spider-Man Suit and More
We can't always cover everything. So here's everything you missed this morning Wednesday, June 19, 2019.
Avengers: Endgame
to beat
Avatar
,
Dark Phoenix
director says the timeline makes sense and Doritos is giving away a
Spider-Man: Far From Home
suit. All this and more in today's ICYMI (In Case You Missed It)
1. AVENGERS: ENDGAME One Step Closer To AVATAR's Record As Kevin Feige Confirms Re-Release With New Footage | Comic Book Movie
Avengers: Endgame
is currently only $44 million away from the top spot at the global box office from
Avatar
.
"Not an extended cut, but there will be a version going into theaters with a bit of a marketing push with a few new things at the end of the movie," Kevin Feige revealed. "If you stay and watch the movie, after the credits, there'll be a deleted scene, a little tribute, and a few surprises. Which will be next weekend."
It's almost guaranteed! A new release with more footage? Please take my money.
2. 'Dark Phoenix' Director Simon Kinberg Attempts to Make Sense of the Nonsensical 'X-Men' Timeline | /Film
Despite the
myriad of problems with the Dark Phoenix movie
director
Simon Kinsberg
says the timeline is okey-dokey. That's despite the latest X-Men movie ending in ways that make
X-Men
(2000) impossible.
"The original films don't really take over a cyclical timeline. Not to get too geeky about it, but because we reset the timeline at the end of Days Of Future Past, it essentially erased X-Men 1, 2, and 3 from the continuity of the timeline, because anything that would have happened after 1973, which is when the past part of Days Of Future Past happens, would have happened differently than it was portrayed in those movies."
It still doesn't explain things like Jubilee being born twice (once in the 1980s and again in the 1990s) but at least we can ignore the name of the school.
3. Anthony Russo, Chris Hemsworth and Robert Downey Jr thanking for the MTV Best Movie Award win. | DailyMail
A truly moving moment happened at the MTV Awards as several prominent members of the MCU gave tribute and thanks for their "Best Movie" Award.
"Tessa, unlike you and most people in this room, I was actually there watching when MTV started, so it's particularly mind-blowing to be here," Russo began. "A movie like this one is only possible because it was built on the shoulders of so many great storytellers and so many great artists, all the way back to its origins, the late great Stan Lee."
4. Marvel Studios Confirmed To Have Hall H Presence At This Year's San Diego Comic-Con | Comic Book Movie
Marvel has skipped San Diego Comic-Con last year and used Disney's big event instead. But this year they're coming back.
Deadline reports that there is no concrete lineup in place, but there's obviously a pretty good chance we'll learn a lot more about Marvel's plans for Phase 4, and fans will be hoping for some kind of update regarding the recently acquired 20th Century Fox properties.
As far as actual footage goes, the solo Black Widow movie is already in production so that's a fairly safe bet, and there's also a chance Marvel will have something to show us from The Eternals by then.
We'll probably get some updates on the Disney+ shows, too, but any major news relating to the likes of Loki, WandaVision and Falcon and the Winter Solider will most likely be saved for D23.
We love MCU 3000.
5. Robert Downey Jr. Wants To See Ironheart Appear In The MCU | Digital Spy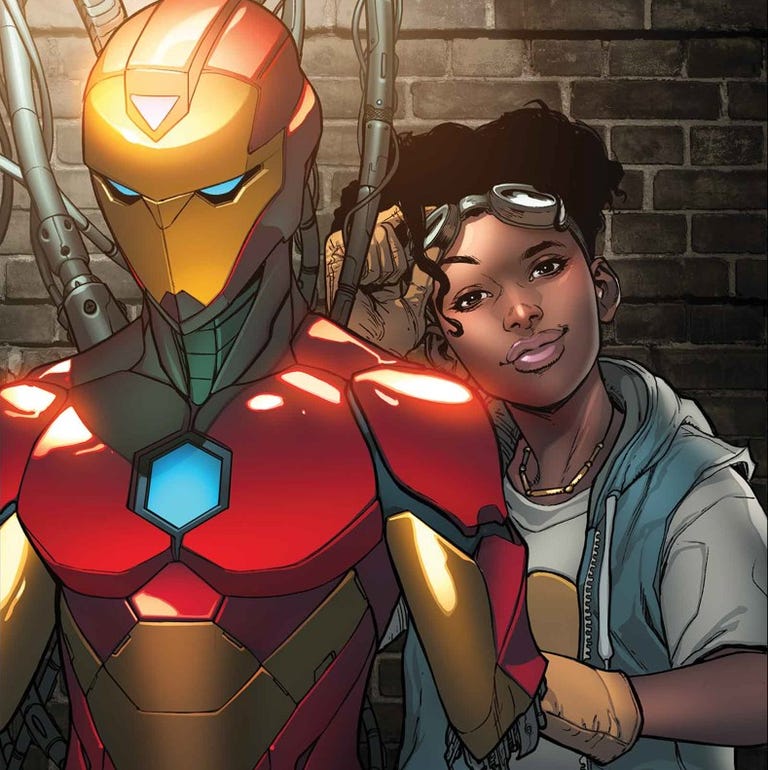 The mantle of Captain America has been passed to a new hero but what about Iron Man? Instead of War Machine (who doesn't have the technical expertise) why not his current black female protege RiRi Williams aka Ironheart?
"The real story here is that @RobertDowneyJr said publicly in a room full of people that #Ironheart should be in the MCU. I went straight back to the press area afterward and was like YOU ALL HEARD IT, WRITE THAT DOWN"
6. Yahya Abdul-Mateen II Wants Black Manta To Team Up With Margot Robbie's Harley Quinn | Heroic Hollywood
"I really like Black Manta and Harley Quinn. I came across this world, and it was really another opportunity to try something different or to flex another acting muscle. Black Manta is gonna come back with some strong vengeance!"
7. Max Landis Accused Of Physical And Sexual Assault As Josh Trank Reveals He Banned Him From CHRONICLE Set | Comic Book Movie
I've harbored a special dislike for Landis' snarky self-important attitude for a while. But I take no pleasure in hearing about his sickening disregard for women. Although I'm not surprised.
...You've hit the jackpot.
While there's been speculation for years that Zendaya is playing Mary Jane Watson there have been a few contradictions. Mainly because her character's name is Michelle "My friends call me MJ" Jones. But her nickname is "MJ". Now with Mary Jane's familiar red hair, it seems almost certain.
9. New CAPTAIN AMERICA Actor Anthony Mackie Warns Fans To Expect Something Different | Comic Book Movie
"I love Chris. Chris is an amazing Cap," Mackie told the Fan Fest audience [via CB]. "And I feel like, what he's been able to do with that character, very few people have been able to do in any cinematic universe or span of films. Because he's played Cap for A LOT of movies. To take that over, to be a part of that, the legacy of that, is a huge challenge. It's something where a lot of people are going to expect me to be Chris Evans in the same suit, but a black dude. And that's definitely not gonna happen."
In the comics, Falcon's turn as Captain America was a major shift in the role and responsibilities of a hero and I'm hoping the MCU follows that pattern.
10. Incognito Doritos Packs the New 'Spider-Man: Far From Home' Suit into a Doritos Bag, and You Can Get One | /Film
There are only a limited amount of these suits available, and if you want to get your hands on one, you can tweet @Doritos to tell them what super power Doritos gives them using #IncognitoDoritos and #entry in your post. Alternately, starting on June 20 (and through June 27) you can also visit IncognitoDoritos.com for an eBay auction where you can win a suit with cold hard cash. All proceeds go to benefit Capes4Heroes, which helps create personalized superhero accessories for kids with disabilities or illnesses or who just need to feel empowered (Doritos will also make a separate donation).
What do you think of today's news and links? Let us know in the comments below!
Note: Some links may lead to an approved affiliate and small proceeds from the sale go to support the blog. Thank you!
If you enjoyed this, then please use the buttons below to tell your friends about this post! Follow us!
Email
|
RSS
|
Twitter
|
Facebook