Geek Bits: GOTHAM Trailer, FANTASTIC FOUR Failure Explained and More [Links]
I'd love to hear what you think of the Internet's greatest moments in this week's "
Geek Bits
."
Links
10.
Vic's Review – "Candyman" (1992)
(via Vic's Movie Den)
A great review of one of the classics of black horror.

9.
GOTHAM Gets the Trailer It Deserves
(via He Geek She Geek)
...
but not the one it needs right now.
8.
Second 'Dawn of the Planet of the Apes' Trailer Rocks
(via
Never Mind Pop Film)
Humans look like real jerks.
7.
Why Miles Morales Needs to be in a Marvel Movie
(via Nerds of Color)
Long overdue
6.
Wednesday Versus: LUTHOR VS JAMES BOND
(via Geek Soul Brother)
Who would win?
5.
Wonder Woman Still Can't Get a Movie
(via MsMariah's Space Blog-yssey)
View the whole illustration from Ms. Mariah's blog.
4.
Five Godzilla Sized Clips from the New Godzilla Movie!
( via Blah Blah Blah Yackity Smackity)
3.
Fantastic Four Director Tim Story Explains How Summer Movies Go Wrong
(via io9)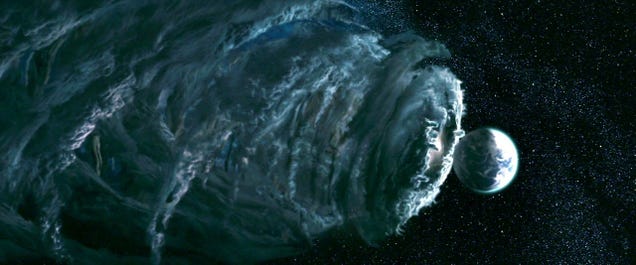 "With those types of big movies, you're directing three movies. There's the movie you're shooting, there's the second-unit action stuff, and there's the visual effects movie. You've got to learn how to deal with all of them...

"The other thing I learned from those two Fantastic Four movies, is that sometimes you can be too lax on how much control you give to the visual effects team, or the production design team, or whoever. If you end up in situations and you're not happy with certain things, it's because you didn't stay on top of them"
I can tell from interviews I've done that the special effects team drove the design of Galactus.
2. Death Star Dress (via The Mary Sue)
This Death Star gown is fully armed and operational. By which I mean it has arms. And it's… operational. Oh, shush. (Badlands Garrison via Geeks Are Sexy)
1. Everything shatters in Marvel poster for S.H.I.E.L.D.'s finale (via Blastr)
Reviews
Television
Marvel's Agents of S.H.I.E.L.D.

"Ragtag" (01x21)
Recommended
Synopsis:
"In the last episode before the epic season finale, Ward 's betrayal and HYDRA's shocking secrets are revealed as Coulson's team goes undercover on a mission that leaves no one unscathed, on "Marvel's Agents of S.H.I.E.L.D."
This episode blew my mind in a lot of ways as we finally learn more about Ward's past and his connection to Garrett. It's crazy what that guy put him through. Coulson and May get some great scenes as techs infiltrating the Hydra tech facility and we learn Garrett is the original Deathlok! What a twist. The real shock is the revelation of Skye's parents. What did you think of the episode?



Arrow

"Streets of Fire" (02x22)
Recommended
Synopsis:
"MALCOLM MERLYN RETURNS — Oliver (Stephen Amell) rallies his team as Slade's (Manu Bennett) soldiers attack the city. Felicity (Emily Bett Rickards) gets a call from S.T.A.R. Labs with game-changing news and Thea (Willa Holland) comes face-to-face with her father – Malcolm Merlyn (guest star John Barrowman)."
Another great episode as it leads to the season finale next week. Oliver goes through another life-changing experience as he comes to terms with the importance and risks of teamwork. Brother Blood gets some characterization and Thea confronts her father in an emotionally powerful scene. It's great to see Glau kick some serious tail as the new supervillain that doesn't have a name, but is probably "Ravager." Diggle gets some great scenes. What did you think of the episode?
Movies
The Amazing Spider-Man
(2013)
Not Recommended
You've already read my review on Monday calling it
worse than

Spider-Man 3
, but here are a few reviews from around the blogosphere



What do you think of this week's links

?



Please use the buttons below to tell your friends about this post. Click on the links to follow us for free by Email, RSS and follow us on Twitter @thegeektwins and like us on Facebook
Follow @Thegeektwins