Geek Bits: Another Black DOCTOR WHO Companion, Awesome Kid's ADVENTURE TIME Mash-Up Mural and More [Links]
Who could be the next Ultimate
Captain America
? What could the ending of the Terry Gilliam's
Watchmen
film have been like? Where will
Luke Cage
be filmed? When will Coal Hill School help the
Doctor
? Why is every overreacting about the creator of
Rocket Raccoon
?
Above Image:
Hero father paints Doctor Who Adventure Time mural for daughter's wall
(via io9)
Find out all of the Internet's greatest moments in this week's (very late) "
Geek Bits
."
By the Way... March Madness 2014
Geek Twins March Madness
is coming March 18, 2014! Last year we ran a
March Madness bracket
and had an amazing response. This year we're doing it even bigger with a
huge prize for first and second place
! The theme last year was
Star Wars,
but this year we're doing something special.
I'll reveal the match-up next week
. Can you guess what sci-fi theme we're doing? Guess in the comments and see if you're right next week Friday!
Links
10.
Is Adam Driver the next Darth Vader in Star Wars Episode VII?
(via io9)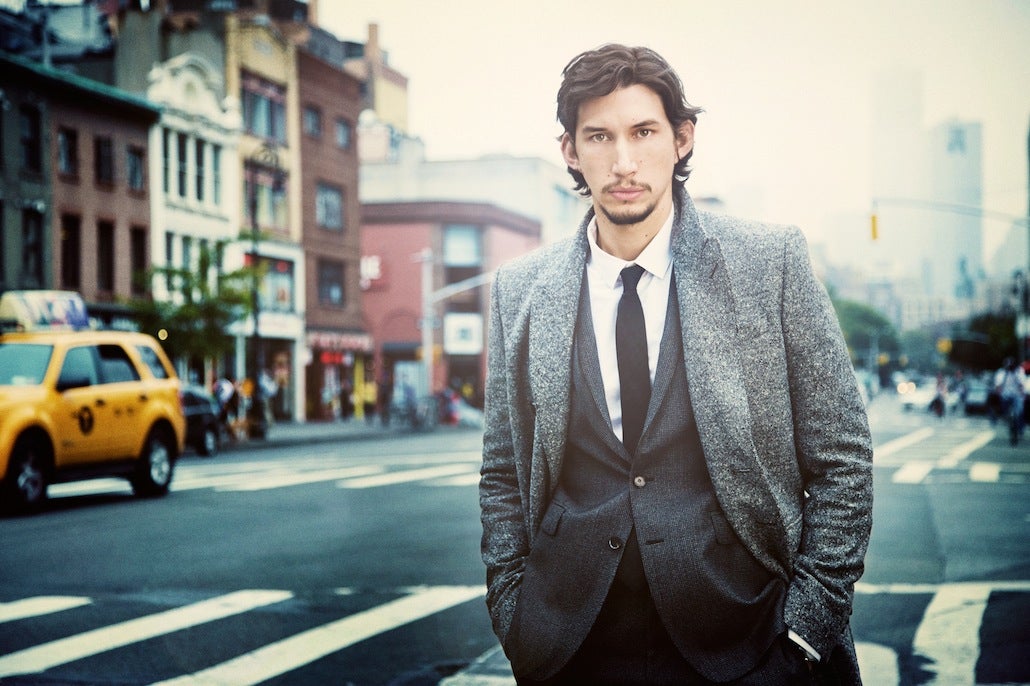 The half creep, half hero male counterpart to Hannah in
Girls
is rumored to be playing a villain who's introduced in J.J. Abrams' Star Wars. Rumors suggest the character is "Darth Vader"-like. Because casting a young Vader worked out so well last time.

9.
Did Marvel Leave Rocket Raccon's Creator Out In The Cold?
(via Comic Book Movie)
There was a lot of chater last week about how Bill Mantlo, the creator of Rocket Raccoon of Guardians aof the Galaxy, was involved in a tragic accident and isn't getting money from Marvel. It turns out the rumors were false. Here's what his brother said:
Marvel has compensated, is compensating, and will continue to compensate Bill well into the future for anything that he's entitled to compensation for. Please don't spread false or malicious rumors, gang. Bill's relationship with Marvel is EXCELLENT, and I wish for it to continue to be so. And all the false or exaggerated 'facts' being tossed around about his accident (he was NOT in a coma for 'years', and the family was NOT put into financial ruin or destitution, among other WRONG 'facts'). Yes, Bill was the victim of a horrible and tragic accident. Blowing everything out of proportion does no one any good. You guys (ALL OF YOU) have been a Godsend to Bill for these past 22 years by keeping his name & reputation alive, and by continuing to champion my cause of helping him improve his quality of life in whatever way I can, and I thank you ALL sincerely for that. Please, let's try some positive energy for the future, so that BILL MANTLO WILL RULE FOREVER!
8.
Find Out How Terry Gilliam's 'Watchmen' Would Have Ended
(via (/Film)
What he did was he told the story as-is, but instead of the whole notion of the intergalactic thing which was too hard and too silly, what he did was he maintained that the existence of Doctor Manhattan had changed the whole balance of the world economy, the world political structure. He felt that THAT character really altered the way reality had been.

He had the Ozymandias character convince, essentially, the Doctor Manhattan character to go back and stop himself from being created, so there never would be a Doctor Manhattan character. He was the only character with real supernatural powers, he went back and prevented himself from being turned into Doctor Manhattan, and in the vortex that was created after that occurred these characters from "Watchmen" only became characters in a comic book.

So the three characters, I think it was Rorschach and Nite Owl and Silk Spectre, they're all of the sudden in Times Square and there's a kid reading a comic book. They become like the people in Times Square dressing up like characters as opposed to really BEING those characters. There's a kid reading the comic book and he's like, "Hey, you're just like in my comic book." It was very smart, it was very articulate, and it really gave a very satisfying resolution to the story, but it just didn't happen. Lost to time.

What do you think of this ending?


7.
Harold Ramis Memorial
(via The Mary Sue)
The above mini-memorial to
Harold Ramis
, who died earlier this week, can be found at the New York City firehouse that served as the Ghostbusters' home base. It's at the corner of North Moore and Varick Sts., if you're in the area and want to add a package of Twinkies to the rapidly growing pile. (That's Nerdalicious, pic by @hershberg)
6.
'Godzilla': Other Monsters We Could See in the Reboot
(via Screen Rant)
5.
'Calvin and Hobbes' Creator Bill Watterson Draws Poster for Cartooning Doc 'Stripped'
(via /Film)
4.
Marvel's New Captain America To Be A Black Teenage Female Immigrant From Africa?
(via Bleeding Cool)

SPOILER WARNING
Ultimate Captain America remains deceased at the end of the mini-series. And because this is the Ultimate Universe, designed to explore other ways of telling classic Marvel stories, there's no need to revive him in some tortuous IP-serving fashion. Instead they can replace him. But with whom? Well, the person taking his shield and bearing it at the end of the issue in question, is none other than Storm of the X-Men. There's no Ultimate X-Men book lined up after the relaunch, so where could she end up? Joining Ultimate Avengers as the new Captain America? Even though, in the Ultimate comics from Marvel, she's a teenage immigrant from Morocco?

3.
The Godzilla - Official Main Trailer
(via Blah Blah Blah Yackity Smackity)
I like it.
2.
Marvel To Shoot Their Daredevil, Luke Cage, Jessica Jones And Iron Fist Shows In New York City
(via Bleeding Cool)
Disney CEO
Bob Iger
and New York Governor
Andrew Cuomo
will apparently be stopping off at Times Square today for a bit of PR. They'll be taking this opportunity to announce a $4 million tax incentive that will allow for Marvel's upcoming Netflix series to be shot in and centred around New York City. Ahead of the official announcement, word was slipped to
The Wrap
who are expecting that we'll see around 60 one-hour episodes taking advantage of this deal. Hopefully this means that production is imminent. I'm done waiting to see how
Drew Goddard
conceives Daredevil already, and
Melissa Rosenberg
's Jessica Jones is more than overdue.
1.
Say Hello To Danny Pink, Doctor Who's New Companion
(via The Mary Sue)
"For the fourth time in Doctor Who history," explained Steven Moffat, "Coal Hill School is coming to the aid of the TARDIS. In 1963 teachers Ian Chesterton and Barbara Wright accompanied the First Doctor. These days it's the turn of Jenna Coleman as Clara Oswald. And very soon now, Sam Anderson as Danny Pink will be entering the world of the Doctor. But how and why? Answers are coming later this year in Peter Capaldi's first series of Doctor Who!"
Reviews
I'm moving reviews to a seperate pst on Saturdays
.
What do you think of this week's links
?
Please use the buttons below to tell your friends about this post. Click on the links to follow us for free by
Email
,
RSS
and follow us on Twitter
@thegeektwins
and like us on
Facebook
Follow @Thegeektwins