Geek Bits: 6 Geekiest Things Inspired by Nelson Mandela, Steam Punk Darth Vader and More
"The Worst of Both World's" via /Film
What would a lightsaber look like if it were made of steam? When did Mandela appear in
Star Trek
? Who would win in a fight between a red shirt and a stormtrooper? Find out the Internet's greatest moments in this week's "
Geek Bits
."
By the Way...6 Geekiest Things Inspired by Nelson Mandela
Yesterday it was announced that Nelson Mandela, the famous South African anti-apartheid revolutionary, had died. His life touched millions, but here are the geekiest inspirations from Mandela.
1. The "Mandela Particle"
In 1974,
"Mandela Particle"
was a nuclear particle "40 to 70 times the mass of a proton" proposed to explain "an anomaly of their measurements of multi-TeV cosmic rays near sea-level." It was later disproved.
2.

Elysium

and

District 9
South African director Neill Blomkamp said
Nelson Mandela and his struggle for equality inspired his films
. "When I came up with the idea for District 9, I was very much in this sociological mind – this Tijuana-border kind of thing, and growing up in South Africa. I was just interested in it, and I knew I wanted to make a science fiction film about the haves and the have nots...The way that he dealt with not turning the country on itself, and the sort of level of moral high ground is incredible. That is inspiring. All those things are linked." He wore Nelson Mandela's prison number on a bracelet around his wrist.
3. Woodpecker Fossil
The
oldest known woodpecker fossil
is named Australopicus nelsonmandelai.
4. Orchid
When Mandela visited the National Orchid Garden in Singapore they named a species of orchid "Paravanda Nelson Mandela."
5.

Star Trek
In the
Star Trek: Enterprise
episode "Storm Front, Part II" an image of Nelson Mandela briefly appears as Captain Archer corrects a damaged timeline. In the
Star Trek
novel
Enterprise: The First Adventure
Lieutenant Nyota Uhura visits
Mandela City
.
6. A Comic Book
In 2008 a
comic book was based on the life of Nelson Mandela
. Mandela joked, "You know you are famous when you discover you have become a comic book character."
Links
10.
Something Called 'X-Men Apocalypse' Is Coming In 2016
(via Huffington Post)
#Xmen #Apocalypse 2016! — Bryan Singer (@BryanSinger) December 5, 2013
The Wrap speculates it's the sequel to
X-Men: Days of Future Past
.
9.
Amazing Spider-Man 2 Teaser Trailer Gets Commentary Track
(via Bleeding Cool)
It seems now that we are getting almost 3 minute teaser trailers… we can now get almost 9 minute commentary tracks. This was released this afternoon by Total Film Magazine and included Mark Webb, The director of Amazing Spider-Man 2, Andrew Garfield (Peter Parker), Emma Stone (Gwen Stacey), Dane Dehaan (Harry Osbourne) and Jamie Foxx (Electro) talking about the filming of the movie and possibly giving away some spoilers.

8.
Steampunk Vader by Bjorn Hurri
(via 2DGeek)
7.
Watch The Creepier Version Of THE DARK CRYSTAL Jim Henson Wanted You To See
(via Geek Tyrant)
This version is much darker and supposedly the version Jim Henson and Frank Oz originally intended audiences to see, but was re-dubbed at the request of producers as it seemed confusing and too dark for audiences. This version removed the narrator, inner monologues, and the Skeksis very rarely speak English. There are some restored additional scenes and musical scores that were removed as the years went on that you'll notice throughout the film. Overall, this film has a much darker and more surreal feel than The Dark Crystal.

6.
A Double Murder In Gotham's Past

(UPDATE)
(via Bleeding Cool)
Bleeding Cool has been told by our lovely new Warners source (who has been so useful this morning) that "the pilot script for GOTHAM has Detective Jim Gordon trying to solve a very famous double homicide." The Waynes.
5.
New Time of the Doctor Poster...
by
Blah Blah Blah Yackity Smackity
4.
The Comics Industry Reflects On… The Death Of Nelson Mandela
(via Bleeding Cool)
3.
BATMAN BEGINS... As a Comedy in This Redone Trailer
(via Geek Tyrant)
2.
See the Star Wars VII audition script an actor posted to Instagram then deleted
(via Blastr)
1.
'The Addams Family' Set As You've Never Seen It Before
(via Huffington Post)
The series was filmed in black and white, which fit the Addams' dark nature, but the set was actually decorated in bright colors, as proven by these pictures shot by Richard Fish: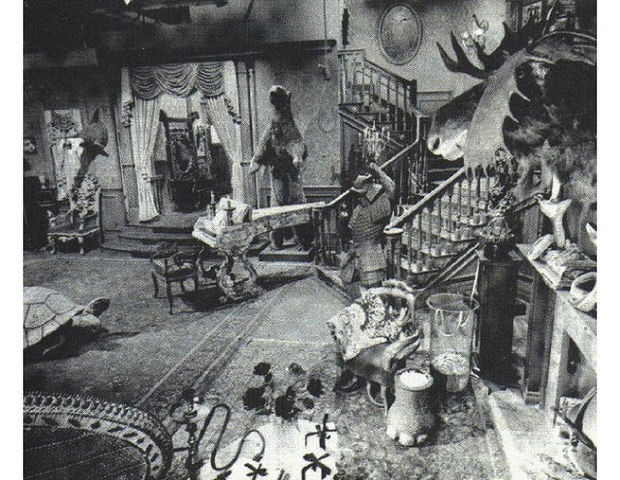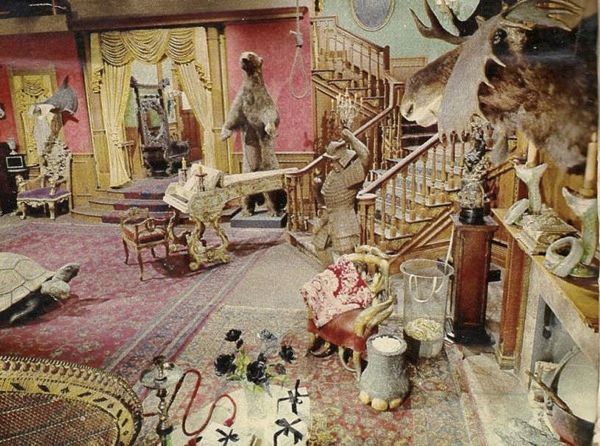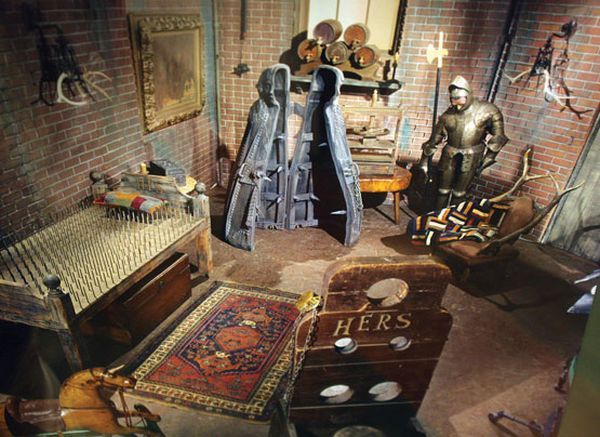 Reviews
TV
Almost Human

(01x02) "Skin"
Official Synopsis:
"Det. John Kennex (Karl Urban) investigates a murder and high-profile missing persons case in "Skin," the Series Premiere, Night Two, episode of ALMOST HUMAN"

The two try to find a murder that involves the illegal use of human skin on robots. One thing that's great about this show is it sets up future crimes without being too hokey or confusing. This episode also shows the isolation Dorian feels being the only "synthetic" that can feel. He is touchingly symapthetic to others of his kind even though they can't reciprocate.
Almost Human

(01x04) "The Bends"
Official Synopsis:
An old cop friend of Detective Kennex's (Karl Urban) goes undercover, posing as a "cook" of a highly addictive street drug called "The Bends." But his cover is blown. As the scope of the intense drug investigation unfolds, a determined Kennex and Dorian (Michael Ealy) call on Rudy Lom (Mackenzie Crook) for assistance in the adrenaline-fueled all-new "The Bends" episode of ALMOST HUMAN

Another fine episode as Kennex and Dorian get help from Rudy (Mackenzie Crook) of all people in an undercover drug operation. Besides being laugh out loud funny it shows that all the acting in this show are top notch. Even the secondary characters work.
Marvel's Agents of S.H.I.E.L.D.
(01x09) "Repairs"
Official Synopsis:
"Coulson and his team are haunted by a mysterious force that threatens to destroy them all, and only a secret from May's past can save them."

This was my least favorite episode so far. While it has some great characterization for Agent May the final reveal of her past was a bit of a let down. The idea of a haunting "ghost" was interesting, but just didn't fit well.
Books
The Planet Thieves
by Don Krokos
Synopsis:
The Planet Thieves
is the first thrilling installment of a new middle-grade series by Dan Krokos. Two weeks ago, thirteen-year-old Mason Stark and seventeen of his fellow cadets from the Academy for Earth Space Command boarded the
SS Egypt
. The trip was supposed to be a short routine voyage to log their required spacetime for summer quarter. But routine goes out the airlock when they're attacked by the Tremist, an alien race who have been at war with humanity for the last sixty years.
It's impossible to review of a book like this without thinking of
Ender's Game
and it's a fair comparison. But, as a young adult novel, this book stands out on it's own as a thrilling story about a war with an alien race that leads a boy to become a man. The twist ending was a little obvious because of the number of hints, but it still works.
Movies
The Hunger Games Catching Fire
(2013)
Synopsis:
"THE HUNGER GAMES: CATCHING FIRE begins as Katniss Everdeen has returned home safe after winning the 74th Annual Hunger Games along with fellow tribute Peeta Mellark. Winning means that they must turn around and leave their family and close friends, embarking on a "Victor's Tour" of the districts. Along the way Katniss senses that a rebellion is simmering, but the Capitol is still very much in control as President Snow prepares the 75th Annual Hunger Games (The Quarter Quell) – a competition that could change Panem forever."
A great sequel. The horrific experiences of the 74th Hunger Games leave Katniss with Post-Traumatic Stress Syndrome and we really get to explore the world of Pan-Em. Putting her back in the games was an interesting twist, but the "more lethal" tributes didn't seem that much worse than the first movie. The more lethal Arena was definitely a highlight though. The only thing I didn't like is that the movie ends with a cliff-hanger since it's setting up
Mockingjay Part 1
and
Part 2
. That's what I hated about
Matrix 2
.
What do you think of this week's links
?
Please use the buttons below to tell your friends about this post. Click on the links to follow us for free by
Email
,
RSS
and follow us on Twitter
@thegeektwins
and like us on
Facebook
Follow @Thegeektwins