Geek Bits: PACIFIC RIM Reviews, Sharknado and More [Links]
Is Pacific Rim worth watching? Why is Captain America's shield scratched?
Is Batman a hoarder? Which female Captain America star is getting her own short film?
Find out in this week's top ten geek bits.
10. Captain America Teaser Poster
Here's the teaser poster for
Captain America: The Winter Soldier
which opens April 14, 2013.
Bubbawheat asks a good question.
@Thegeektwins @CaptainAmerica so vibranium isn't scratch resistant?
— Bubbawheat (@Bubbawheat) July 9, 2013
Which begs the question: Is Vibranium scratch resistant? We'll have to wait till the movie comes out to see, but according to the Marvel Wiki, "This shield is composed of a unique alloy of Vibranium, Adamantium, and an unknown third component. It is virtually indestructible." So, it's not technically Adamantium which is "unbreakable."
So, what do you think? Why is the shield scratched?
9. Whedon and Gregg AGENTS OF S.H.I.E.L.D Onset Pic
(via
Comic Book Movie)
8. Batman is a Hoarder! (via Neatorama)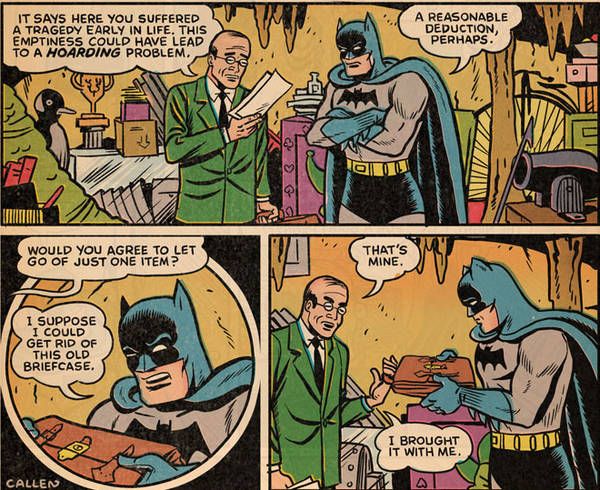 "Although most superheroes could be diagnosed with a mental illness or two, Batman always seems to be a cornucopia of neuroses. When it was suggested to Kerry Callen that the Caped Crusader he may be a hoarder, he was inspired to write a comic about it. It's only two pages long, and what you see here isn't the only joke.
Link
-via
Boing Boing"
7. Agent Carter short Film in Iron Man 2 Extras
"Hayley Atwell will star in the newest Marvel one-shot,
Agent Carter
, to be featured on the
Iron Man 3
Blu-Ray this September. Atwell will reprise her role as Peggy Carter, the SSR agent stood up by Steve Rogers in
Captain America
, in a short film that is said to tie the events of
The First Avenger
to those in
Iron Man 3
. We don't know much else about it so far except that it has its own sweet pulp-inspired one-sheet." -
He Geek She Geek
6. "Sharknado"
I absolutely love the B-Movie hilarity of SyFy channel movies and this one looks brilliantly stupid.
Here's the insane plot: "When a freak hurricane swamps Los Angeles, thousands of sharks terrorize the waterlogged populace. And when the high-speed winds form tornadoes in the desert, nature's deadliest killer rules water, land, and air."
Starring:
Tara Reid, Ian Ziering, John Heard, Cassie Scerbo, Jaason Simmons
I was laughing so hard at the trailer I missed it last night! I'll watch it and post a review next week. Here's the trailer:
5. Summer Glau Cast in Major Role in ARROW Season 2
(via GeekTyrant)
As exciting as this is, T.S. makes a good point.
@Thegeektwins Oh, so the show's going to get cancelled after all... haha
— TS Hendrik (@TheNonReview) July 11, 2013
Sad, but true.
4.
Vin Diesel Continues to Toy With Marvel Fans, Vaguely Teasing Possible Roles (via /Film)
We still don't know who Vin Diesel will be playing, but some have suggested the poster behind him is a hint. What do you think?
3. Star Wars Bulldogs
To increase our popularity, we've decided to follow
Pat's advice
and add bulldogs to the site.
2. Snowpiercer Trailer and Featurette
In the most anticipated movie I'll probably never see is the Korean film
Snowpiercer
.
I wrote a whole
in-depth analysis of Snowpiercer
for my other blog Film Sketchr, but here's the basic plot:
"
Snowpiercer is set in a future where, after a failed experiment to stop global warming, an Ice Age kills off all life on the planet except for the inhabitants of the Snowpiercer, a train that travels around the globe and is powered by a sacred perpetual-motion engine. A class system evolves on the train but a revolution brews."
Here's the trailer and Eli Reyes, from Geek Tyrant, knows Korean and is able to
translate the featurettes
.
1. Pacific Rim Reviews
Rotten Tomatoes has the movie at a 75% rating and
Here's what 11 mainstream critics think of Del Toro's Pacific Rim
via Blastr. I'll summarize: it's awesome, but not too deep.
Are you going his weekend?
REVIEWS
Do No Harm (4/5 stars)
"Me Likey" - Ian must pose as Dr. Jason Cole at a hospital fundraiser in order to get closer to Olivia.
It turns out NBC is airing the remaining episodes of this "Jekyll and Hyde" show and I couldn't be happier. My favorite part of the show is the dynamic between Ian Price (Steven Pasquale) and Dr. Jason Cole (Steven Pasquale). They're always playing tricks on each other and lying to each other while trying to work together. Ian agrees not to go to strip clubs and goes to a bar and gets in a fight. The guy he beat up is in the hospital and ends up being treated by Jason. It's brilliant stuff. They finally resolved the storyline wth his ex-girlfriend Olivia in this episode and its inspired. Jason tries to get him to give a speech and it almost goes horribly wrong. But then it turns out Jason wasn't lying when he said he'd give him Olivia. She's not scared of Ian, but afraid of the person she becomes when she's around him. I do love this show and I'm sorry it was cancelled and banished to the "Saturday Death Zone" of television.
Falling Skies (3.5/5 stars
)
"Be Silent and Come Out"
-
Hal finally reveals his internal struggle to everyone, and it doesn't bode well for the Masons. Lourdes experiments with a risky new medical procedure. And Charleston's government sees a massive shift in leadership when a group breaks away on a search and rescue mission. Gloria Reuben guest stars
This is another great episode as Tom (Noah Wyle) has to deal with Hal's (Drew Roy) betrayal and the 2nd Mass struggles to reconcile acting to defend the group and save the man they love. The scene where Hal's trying to talk them out if using the alien Voln tool to get the bug out of him is heat-breaking as he pleads for his life. On the other hand, if they're trying to get me to hate Pope's (Colin Cunningham) character they're doing a great job. Between betting on the death of Hal and Tom and teasing Hal for being freed from the bug, he's becoming more and more unlikeable. Where's freak-baby? Nowhere in this episode.
What do you think of this week's links?
Please use the buttons below to tell your friends about this post. Click on the links to follow us for free by
Email
,
RSS
and follow us on Twitter
@thegeektwins
and like us on
Facebook
Follow @Thegeektwins