Geek Bits: Superman Fortress of Solitude Cost, Huge DOCTOR WHO Rumor and More [Links]
What does the
Man of Steel
soundtrack sound like? Which 60-year-old actor might return to sci-fi? Where? When will an Ant-Man movie be released? Why did a boy break down in tears after meeting Robert Downey Jr.? How Much Would the Fortress of Solitude Cost?
Here are the 10 geekiest bits of the Internet this week.
10. The Universe Hates Action Comics
In two bits of Action Comics news, the comic found in the wall of the house
sold for $175,000
(worth more if that
lady hadn't ripped it
) and a
drunk driver smashed through the Action Comics #1 Fence around Joe Shuster's old house.
The universe really hates that comic, I guess. (via Bleeding Cool)
9. Boy Cries When He Meets Robert Downey Jr.
A little boy was excited to meet Iron Man...but it was only Robert Downey Jr. He was OK after they explained that Iron Man wears a suit. (via
Neatorama
) Would you cry meeting Robert Downey Jr.?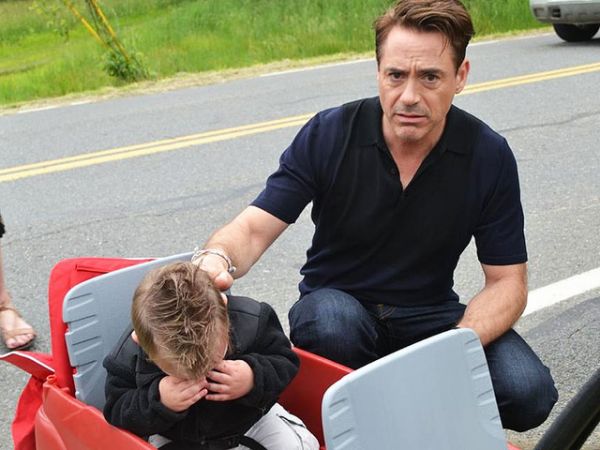 8. New Doctor Who Toys
In Doctor Who news
new Doctor Who toys
are available and "the first batch of new sized figures (3.75")...feature: Clara, The Eleventh Doctor, Cyberman, Dalek, Weeping Angel and Ice Warrior." (via Blogtor Who)
7.

Mavel Announces Release Schedule

Yesterday Marvel sent us the upcoming release schedule for films and here are the ones you might be interested in.

TOMORROWLAND

(Disney)

Moves to 12/12/14 wide (from 12/19/14 wide).
The film is being directed by Brad Bird and written and produced by Bird and Damon Lindelof.
George Clooney, Hugh Laurie, Raffey Cassidy and Thomas Robinson have been cast.

UNTITLED MARVEL FILMS

We've also announced dates for two UNTITLED MARVEL films (5/6/16 and 5/5/17), in line with Marvel's successful tradition of opening films in early May, including the billion-dollar hits MARVEL'S THE AVENGERS and Marvel's IRON MAN 3. We look forward to announcing more details about these films as well as the sequel to THE AVENGERS (opening 5/1/15) at a later date.

Empire is saying

Marvel And Disney's Two Mystery Movies

might be Ant-Man and Dr. Strange.

6. Lost Doctor Who Episodes Coming Soon?

The really big news is that the BBC may have found the 100 missing episodes of

Doctor Who

and are planning to release them on DVD in November for the 50th Anniversary. (via

Bleeding Cool

)

"We all know that through a series of cock ups, incompetence and lack of forethought, swathes of episodes of Doctor Who from the sixties were wiped by the BBC. Some episodes were found again, some were sold to other countries, some kept in people's loft space, but over a hundred episodes of the show were missing, along with episodes, entire series even, of many other BBC shows....

"What I've been hearing, and some of it is attributed to an eccentric engineer who worked for broadcasters across Africa with a taste for science fiction and a habit of taking things for 'safe keeping', is that the BBC have secured a large number of presumed-wiped episodes of early Doctor Who."

5

.

Geriatric Terminator? Arnold Schwarzenegger Says He'll Be The Terminator In Terminator 5, Filming In January

. He said, "I'm very happy that the studios want me to be in

Terminator 5

and to star

as

the Terminator, which we start shooting in January." Is there anyone that wants to see a 65-year-old Terminator?
4. For Sale: the Fortress of Solitude
The guys at Movoto have done another infographic explaining how much Superman's Fortress of Solitude would go for on the open market. So if Clark ever gets fired, and you don't mind the location, this one's a steal.

3. The Dark Knight's Battractor
(via Geek Tyrant)
It's not the tractor John Deere wanted, but it's the one he needs.
2. Man of Steel Soundtrack
Listen to Hans Zimmer's Complete Soundtrack for MAN OF STEEL
(via Collider) and Howling Wolf Records has an overview of the
Man of Steel - Deluxe Edition.
1.

Jaws

Quint as Wolverine
Reader PJ McQuade sent us this fake comic book cover. It's just awesome and much better than
Jaws: the Revenge.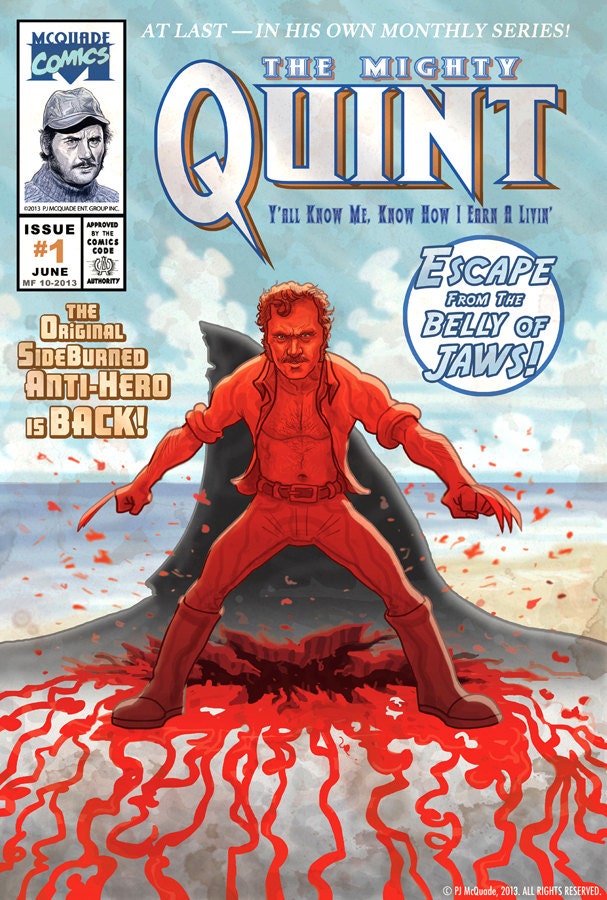 You can buy a print from
McQuade on ESTY
TV Reviews
Falling Skies "On Thin Ice/Collateral Damage"
Plot: "Season three of Falling Skies opens seven months after the 2nd Mass arrived in Charleston. In the interim, Tom has been elected to political office, but he has his hands full as the resistance continues to battle the alien invaders. Tom's decision to have the rebel skitters fight alongside humans creates tension and raises suspicions that someone may be feeding secrets to the enemy. Meanwhile, Hal struggles with nightmares that seem so real, he has difficulty knowing if he's awake or dreaming. And Tom and Anne prepare to welcome their baby. Terry O'Quinn and Gloria Reuben guest star."

Plot: "With hostilities escalating between the resistance and the alien invaders, Tom calls on a nuclear specialist (guest star Robert Sean Leonard) known as "The Rat King" to come up with a plan that will strip the aliens of their power. As suspicion continues to mount about a mole within the resistance, Tom and his leaders make a drastic decision that jeopardizes trust among the group. Anne, meanwhile, has a feeling that all is not right with her newborn. Gloria Reuben also guest stars."
The two part season premiere was very enjoyable, which surprises me considering how lackluster the first season was. The seven month gap feels like an eternity with people pregnant, dead and in wheelchairs. The new alien factions are intruiging and the action is pulse-pounding. That baby creeped me out though.
Movie Reviews
Escape From the Earth

(2013)
Plot:

Astronaut Scorch Supernova finds himself caught in a trap when he responds to an SOS from a notoriously dangerous alien planet. Stars the voices of Brendan Fraser, Sarah Jessica Parker, Jessica Alba. Rated PG.


It reminded me a lot of Monsters vs. Aliens with it's themes of alien prisons and evil humans, but with better plot twists. My son absolutely loved it and I enjoyed it too. (Recommended)

Hulk

(2003)
Plot:

Marvel Super Hero, the Hulk, explodes onto the screen in this special-effects epic starring Eric Bana and directed by Ang Lee


I haven't seen this one in a while, but it's actually better than I remember. It's convoluted explanation of Banner's transformation and weak story make it a terrible comic book movie. I explained Ang Lee's explanation of Banner's powers and my waife said, "That's stupid." But it's exploration of fatherhood and mind-blowing action scenes make it worth watching. Still sucks, but it's worth watching on basic cable.

Please use the buttons below to tell your friends about this post. Click on the links to follow us for free by
Email
,
RSS
and follow us on Twitter
@thegeektwins
and like us on
Facebook