Geek Bits: Wolverine Burgers, Robert Downey Returns and More [Links]
How bad was the worst Superman movie? What burgers are inspired by
The Wolverine
? When will
Independence Day 2
be released? Who is going to be cast in
Star Wars VII
?
Find out that and more in this week's Top Ten "Geek Bits."
10.

Independance Day 2

Coming 2015
Director Roland Emmerich and producer Dean Devlin have been trying for years to make two
Independence Day
sequels called
ID Forever Part One
and
ID Forever Part Two
. The studio finally set a release date for July 3rd 2015.
While Jeff Goldblum
said he'd do a sequel
. Will Smith recently scoffed at doing a sequel like,
M.I.B 4
, saying
"Three of Anything Is Enough for Me"
. But since
After Earth

bombed like

Battlefield Earth
, he might sign up.
9. Never Mind Pop Film has a
Jack the Giant Slayer Giveaway
8. Red Robin Wolverine Burgers
(via
Superheroes-R-Us
)
Just in time for the release of
The Wolverine
(
July 26, 2013) the restaurant '
Red Robin' has a few movie tie-in burgers.
Red Robin is joining forces with Twentieth Century upcoming blockbuster The Wolverine, premiering July 26, to unleash action-packed flavor this summer. Starting today, guests can get their claws on two new burgers, offering an epic combination of ingredients inspired by the film:

The Berserker Burger – This burger packs an explosive punch of flavor that will make guests go berserk, including a fire-grilled burger topped with zesty aioli, spicy pickles, Sriracha onion straws and Cheddar cheese on a brioche bun that has Wolverine claw marks in it!



Kuzuri Style Tavern Double (image below) – Guests can feed their inner Wolverine with this exotic, Asian-inspired Tavern Double style with samurai slaw, ginger garlic wonton strips, and cilantro.

In conjunction with the partnership, now through June 30, guests that purchase a $25 limited edition The Wolverine gift card at participating Red Robin® restaurants will receive a free movie ticket to see the film when they enter their gift card code at www.redrobin.com/movietix.
Guests will then be entered into a sweepstakes for a chance to win a trip for two to Japan for the ultimate "Wolverine" experience and other great prizes like Visa gift cards and signed movie posters. Red Robin will also reward any guest who sees the movie during opening weekend (July 26-28) and brings their ticket stub into participating restaurants the following Monday through Thursday, with $3 off their visit.
7.
Dwayne 'The Rock' Johnson Could Star in 'Terminator 5′
(via Screen Rant)


6

. Superman IV: The Quest for Peace

Honest Trailer
(via
The Knights
)
I'd forgotten how bad this movies was...
5.

Star Wars VII

Casting
Bleeding Cool
got a hold of a casting list from the UK and it was confirmed by LucasFilm. They add that the list is "not necessarily to be billed in the order below," and stressed that the site has "100% confirmed" that the following is accurate. What do you think it means?
Late-teen female, independent, good sense of humour, fit.
Young twenty-something male, witty and smart, fit but not traditionally good looking.
A late twentysomething male, fit, handsome and confident.
Seventy-something male, with strong opinions and tough demeanour. Also doesn? t need to be particularly fit.
A second young female, also late teens, tough, smart and fit.
Forty something male, fit, military type.
Thirtysomething male, intellectual. Apparently doesn?t need to be fit.
We don't know how this will be cast, but
Huffington Post
did a hilarious list of casting suggestions including Rambo and Mark Zuckerberg.
4. Robert Downey Signed on for next two

Avengers

films (via
Deadline
)
After a bitter contract debate, Robert Downey Jr. has agreed to return as Tony Stark in a two-picture agreement for
Marvel's
The Avengers 2
(May 1, 2015) and
Marvel's The Avengers 3
(TBD). The sequel starts production March 2014 and will again be written and directed by Joss Whedon. It's interesting that the agreement doesn't include any Iron Man movies, so expect that battle to be even more heated.
3. Doctor Who Obituary
One fan has an
awesome obituary
that says, in part, 'Jeffrey M. Daly, 67, of Newton, got in the TARDIS on June 17, 2013, and has left for places and times unknown.'
2. Roddenberry Buried in Space (via Blastr)
Trek creator Roddenberry's ashes to boldly R.I.P. in deep space
along with James "Scotty" Doohan
1. Buy "The Internet" with On/Off Switch (via
Netorama
)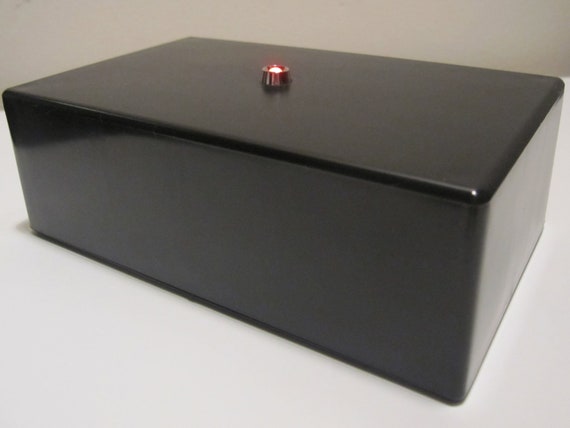 "
This is The Internet. It is wireless and can normally be found at the top of Big Ben in London, where it gets the best reception. " Buy it on Etsy for only $28.
REVIEW
Man of Steel (2013)
Plot:
From Warner Bros. Pictures and Legendary Pictures comes "Man of Steel," starring Henry Cavill in the role of Clark Kent/Superman, under the direction of Zack Snyder ("300,""Watchmen"). The film also stars three-time Oscar® nominee Amy Adams as Daily Planet journalist Lois Lane, and Oscar® nominee Laurence Fishburne as her editor-in-chief, Perry White. Starring as Clark Kent's adoptive parents, Martha and Jonathan Kent, are Oscar® nominee Diane Lane and Academy Award® winner Kevin Costner. Squaring off against the superhero are two other surviving Kryptonians, the villainous General Zod, played by Oscar® nominee Michael Shannon, and Faora, Zod's evil partner, played by Antje Traue. Also from Superman's native Krypton are Lara Lor-Van, Superman's mother, played by Ayelet Zurer, and Superman's father, Jor-El, portrayed by Academy Award® winner Russell Crowe.
Non-Spoiler Version:
A good movie with insane action,  the most muscular Superman ever filmed and some great twists on the genre. I'm not surprised the movie has mixed reviews since the high parts were good,  but the low parts were bad. 3D is good,  but not necessary. Cavill is great, but not as likeable as Reeve. There was no chemistry between Adams and Cavill. Also, the original film went to great lengths for the flying FX and the CGI just wasn't as realistic.
Spoiler Version:
The best parts were the scenes with Kevin Costner (especially his death),  the final battle with Zod and the scenes with Jor-El in the Fortress of Solitude. The worst parts were the death of Lara (she died alone), Superman's cavalier attitude to the destruction of Metropolis and his secret identity. The whole world knows he's from Smallville?! It makes no sense!
Final rating? Recommended.
Now, here are some highlights from reviews around the blogosphere.
What do you think of this week's links?
Please use the buttons below to tell your friends about this post. Click on the links to follow us for free by
Email
,
RSS
and follow us on Twitter
@thegeektwins
and like us on
Facebook
Follow @Thegeektwins