ICYMI - Palpatine is a Clone, Anthony Mackie's Captain America "Represents Everybody" and Lady Mysterio
Here are the biggest stories for Monday, March 02, 2020.
We can't always cover everything. So here's everything you missed this afternoon. In Case You Missed It (ICYMI).
Warning: May contain spoilers!
Above Image: [SELF] [COSPLAY] I debuted my Spider-Man: Far From Home Mysterio cosplay over the weekend at PAX East! |
Redditt - /MarvelStudios
1. Mark Ruffalo Confirms Preliminary Talks to Appear in Marvel's 'She-Hulk' Series on Disney+ | /Film
2. BLACK WIDOW: Detailed Look At Taskmaster's Suit Points To Him Having Black Panther's Vibranium Claws | Comic Book Movie
Tamashii Nations has released official images for their upcoming Black Widow movie S.H. Figuarts Taskmaster. It's interesting if true but the site speculates based on a licensed toy. Apparently, the title comes from the plastic figure having hands that look like Black Panther's. Looks cool though. Read our primer
Everything You Need to Know About Black Widow Villain Taskmaster
to get up to speed.
3. Palpatine Is a Clone in The Rise of Skywalker According to New Star Wars Book | MovieWeb
The Rise of Skywalker: Expanded Edition (Star Wars) is being released March 17, 2020. But people got their hands on the pre-release copy and leaked it.
"All the vials were empty of liquid save one, which was nearly depleted. Kylo peered closer. He'd seen this apparatus before, too, when he'd studied the Clone Wars as a boy. The liquid flowing into the living nightmare before him was fighting a losing battle to sustain the Emperor's putrid flesh.
"What could you give me?" Kylo asked. Emperor Palpatine lived, after a fashion, and Kylo could feel in his very bones that this clone body sheltered the Emperor's actual spirit. It was an imperfect vessel, though, unable to contain his immense power. It couldn't last much longer."
4. First Look at STAR TREK: VOYAGER Fluxx Card Game | TrekCore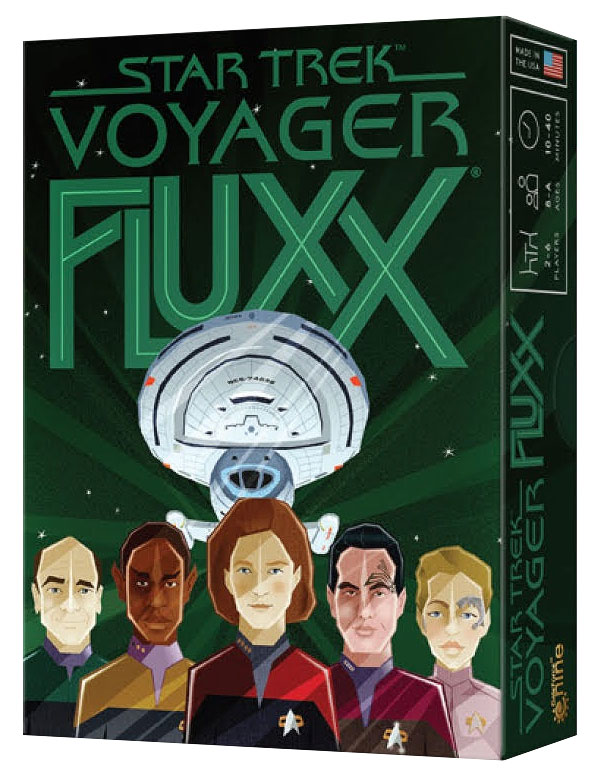 5. 'The Falcon And The Winter Soldier' Set Photos Show Captain America In Action | Heroic Hollywood
6. Doctor Who Season 12 Finale Reveals the Identity of the Timeless Child | TV Guide
7. Anthony Mackie Says He Wants His Version of Captain America To "Represent Everybody, Not Just a Specific Group of People" | GeekTyrant
8. Holy Deepfake, Batman: Watch Robert Pattinson Replace Christian Bale In Batman Begins Scene | Cinemablend
9. Two TREK Events Beam to Los Angeles in March | TrekCore

10. Classic Sci-Fi Movies Get Reimagined as Dr. Seuss Books | The Mary Sue
The artist
Dr. Faustusau
/ also did Batman!
Most Popular Posts - Last Week
Here are the top five posts from last week
1
5 Horrifying Facts About Seven of Nine's Uniform - The Geek Twins
2
A Brief History of Deanna Troi's Cleavage - The Geek Twins
3
Infographic: 14 Most Popular Marvel Actors By Height - The Geek Twins
4
7 Surprising Facts About STAR TREK: ENTERPRISE T'Pol Costume - The Geek Twins
5
10 Marvel Asian Superheroes Who Should Get Their Own Show - The Geek Twins
Quote of the Day
"Hold on to your butts." - Ray Arnold, Jurassic Park (1993)
On This Day: Monday, March 02, 2020
March, 2, 1933:
King Kong
directed by Merian C. Cooper and Ernest B. Schoedsack, starring Fay Wray premiered at Radio City Music Hall and RKO Roxy in NYC. It would open internationally on April 7, 1933.
Click on the link for more
ICYMI
!
What do you think of today's news and links? Let us know in the comments below!
About the Author
Maurice Mitchell has been a passionate science-fiction fan of movies, television, books, and comics since age five. He and his twin brother Nigel created the site "The Geek Twins" to share that passion. Maurice has written and created infographics for sites like The Geek Twins and About.com. His work has been featured on sites like Business Insider, io9 Slashfilm and more.
Read more of his posts | Follow him on Twitter @Mauricem1972
Note: Some links may lead to an approved affiliate and small proceeds from the sale go to support the blog. Thank you!
If you enjoyed this, then please use the buttons below to tell your friends about this post! Follow us!
Email
|
RSS
|
Twitter
|
Facebook