Geek Bits: Whedon Says What God Would Tweet, GUARDIANS OF THE GALAXY by Bill Waterson and More [Links]
I'd love to hear what you think of the Internet's greatest moments in this week's "
Geek Bits
."
Links
10.
Bill Mantlo, Co-Creator Of Rocket Raccoon, Gets A Private Viewing Of Guardians Of The Galaxy, Courtesy Of Marvel
(via Bleeding Cool)
What a heart-warming story after the co-creator of Rocket Raccoon was severely debilitated by a traffic accident decades ago. Bill's brother
Michael writes on Facebook:

*****WHAT AN INCREDIBLE DAY FOR BILL MANTLO*****! Marvel hooked Bill up with a PRIVATE VIEWING of "Guardians Of The Galaxy", and my wife Liz and my beloved cousin Jean assisted Bill throughout, enabling him to sit back, relax and relish in the AWESOMENESS of what is going to be, in my humble opinion, Marvel's GREATEST AND MOST SUCCESSFUL FILM EVER! Bill thoroughly enjoyed it, giving it his HIGHEST COMPLIMENT (the BIG "THUMB'S UP!"), and when the credits rolled, his face was locked into the HUGEST SMILE I HAVE EVER SEEN HIM WEAR (along with one or two tears of joy)! This was the GREATEST DAY OF THE LAST 22 YEARS for me, our family, and most importantly, BILL MANTLO!

The gentlemen that made it possible for Bill to see his creation, ROCKET RACCOON, come alive in "Guardians Of The Galaxy", Marvel Attorney David Althoff (far left) and Marvel VP David Bogart (center). Giving Bill this opportunity was a daunting challenge (with all the legal & security protocols that needed to be breached), but these two FINE MEN made it happen, and Bill had the HAPPIEST DAY OF HIS LIFE! I will NEVER be able to thank them enough for all that they have done for Bill!
9.
What If Doctor Who Became A Saturday Morning Cartoon?
(via io9)
I'd watch it.
8.
Ten Seemingly Lame MARVEL Characters Who Are Actually Pretty Cool
(via Newsarama)
7.
Dorkly Presents 20 More Times Joss Whedon Won Twitter - Because he just keeps being perfect at it.
(via The Mary Sue)
If I were God I'd end suffering & violence but first a run of FLAWLESS tweets, funny/topical – inspiring but not preachy, just great #tweets
— Joss Whedon (@josswhedon) February 13, 2014
6.
Stop Everything: This Guardians of the Galaxy and Calvin and Hobbes Mashup Won the Internet - There's treasure everywhere, but especially here.
The Mary Sue
)
5. See Chris Pratt As INDIANA JONES In This Awesome Fan Manip (via Bleeding Cool)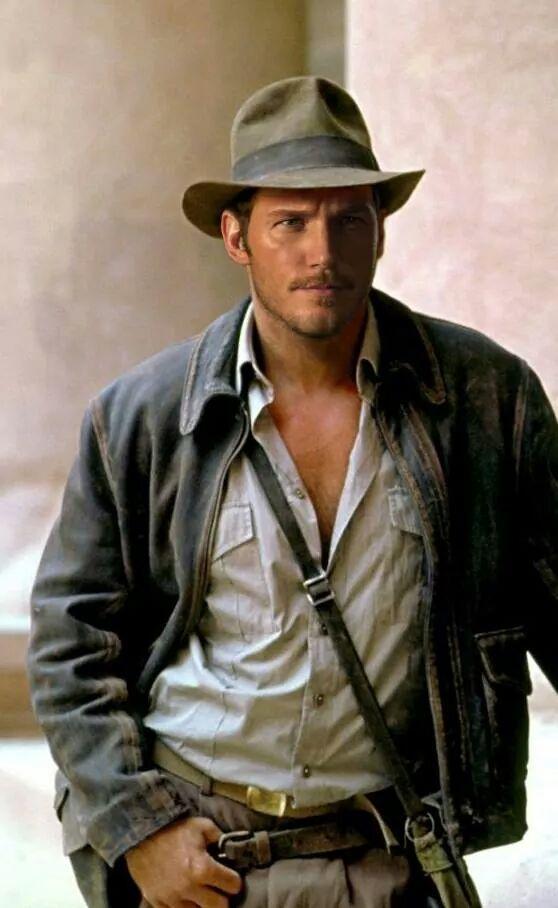 4.
'Falcon' Gets The Spotlight In New CAPTAIN AMERICA: THE WINTER SOLDIER Featurette
(via Comic Book Movie)
3.
Jeffrey Wright, Shannon Woodward, and Four More Join HBO's

Westworld

Series
(via The Hollywood Reporter)
The Hunger Games
star is just one more reason to watch this show.
Joining Hopkins and Wood are Jeffrey Wright (Boardwalk Empire), Rodrigo Santoro (Lost), Shannon Woodward (Raising Hope), Ingrid Bolso Berdal (Hercules), Angela Sarafyan (Twilight: Breaking Dawn — Part 2)and Simon Quarterman.

Wright will play Bernard Lowe, the brilliant and quixotic head of the park's programming division. His keen observation of human nature provides him with boundless inspiration for his life's work — creating artificial people.

Santoro (Focus' Dominion) is set as the terrifying and brutal with a dark sense of humor Harlan Bell, Westworld's perennial "most wanted" bandit. He subscribes to the theory that the West is a wild place, and the only way to survive is to embrace the role of predator.
2. The Flash Trailer Shows Barry Allen's Powers In Action (via io9)
I couldn't be more excited about this show. Why must the Gregorian Calendar have 30 days?! October could be here by now!
1. Iron Man 3 Bath Sponge (via The Mary Sue)
I wonder what Iron Man punches smell like? Grease or flowers?
What do you think of this week's links
?
If you enjoyed this, then please use the buttons below to tell your friends about this post! Follow us!
Email
|
RSS
|
Twitter
|
Facebook