Geek Bits: Netflix Found Their Kingpin, VOYAGE TREKKERS Movie and More
Who's playing Kingpin on the Netflix
Daredevil
series? What would it be like living with a cat that talks like Bane? Where When will a Voyage Trekkers movie be happening? How would you make a burger that tastes like Hercules?
Above Image: Andrew Lamb is attaching superheros and action stars to neighborhood watch signs in Canada and its perfect. See the rest at his
Instagram account
(via
/Film
)
I'd love to hear what you think of the Internet's greatest moments in this week's "
Geek Bits
."
By the Way... I Wish We Only Had One
Star Wars

Movie

Before
Star Wars
(1977) was
Episode IV: A New Hope
it was just
Star Wars
. It was a simple movie about a galactic space battle. No one knew who Darth Vader was. No one cared who Luke's mother was. The question of Leia and Solo falling in love never came into our young minds. It was just a cool movie with space ships, robots, lasers and lightsabers. Ah, lightsabers. They weren't the glowing, cool acrobatic swordfights we know now. They were just glowing sticks that could cut through anything. Awesome. Looking back, it's a cute movie that started a cultural revolution. Six movies (soon to be at least 18) later and a literal media empire. It's awesome but, in some ways, I wish it had just stayed the simple movie that changed history. I wouldn't mind going back to that. Would you?
This post is part of the "Then and Now" bloghop hosted by
The Armchair Squid
,
Suze
,
Nicki Elson
and
Nancy Mock
. Tell us about a movie you loved when you were younger and have come to see differently over time - for better or for worse.
Links
10. Voyage Trekkers Movie Indiegogo Campaign
Here's more exciting news from Voyage Trekkers. They're working on a full-length feature film! Here's the partial press release:
Sci-fi Comedy Voyage Trekkers Warps From Web Series to the Big Screen
June 11th, Phoenix, Arizona - Voyage Trekkers, the award-winning web series about the worst starship crew in the galaxy, turns to it's fans to transform the series into a movie with their Indiegogo Campaign.
Voyage Trekkers follows the misadventures of the GSV Remarkable and her crew as they struggle to make a name for themselves in the Galactic Union. Lead by the brash Captain Sunstrike (Adam Rini), apathetic Commander Powell (Logan Blackwell), and the exasperated Doctor Rena (Gabrielle Van Buren), the series was praised by actor Nathan Fillion saying, "This is solid gold."
"We wanted to go big," says co-writer and director Nathan Blackwell. "We wanted to take the characters and the world to the next level. We raised the bar with Season Two with what people expect from a low-budget sci-fi web series, and we wanted to continue to up the ante with a movie."
Learn More and contribute!
Voyage Trekkers The Movie Indiegogo Campaign

You can connect with Voyage Trekkers on Facebook, Twitter, YouTube, Blip, and at voyagetrekkers.com.
9.
Bane Cat Episode 2..
(via
Blah Blah Blah Yackity Sm
ackity)
8. Red Robin Hercules Burger
Last year I featured a post about the
Red Robin's Wolverine Burger
. Well,
Red Robin
contacted us about the upcoming
Hercules
burger to tie in with the Dwayne "The Rock" Johnson movie. I had one last night and it was pretty good. It could have used more brisket, but the sauce is excellent.
Red Robin Satisfies Guests' Inner Hero with a Burger Inspired by the "Hercules" Film and a FREE Movie Ticket Offer
America's Gourmet Burger Authority™ Partners with Paramount Pictures and Metro-Goldwyn-Mayer Pictures to Serve Up Action-Packed Flavor and Fun This Summer
GREENWOOD VILLAGE, Colo., June 9, 2014 – This summer, guests can conquer their appetites at Red Robin® restaurants thanks to an exciting partnership with Paramount Pictures and Metro-Goldwyn-Mayer Pictures' upcoming film "Hercules," in theatres July 25. In celebration, Red Robin Gourmet Burgers, Inc. (Red Robin) is offering guests a new burger of mythical proportions!
Available now through Sept. 1, The Colossus Burger is a fire-grilled beef patty piled high with an unbeatable combination of finely chopped smoked brisket, provolone cheese, grilled onions, and Red Robin's Campfire and Triple S BBQ sauces served on a sesame seed bun.
Red Robin's latest Burgers & A Movie™ promotion provides guests with exciting offers. Guests who purchase a $25 limited edition "Hercules" gift card at participating Red Robin® restaurants and Kroger supermarket locations will receive a FREE* movie ticket to see the film when they enter their gift card code at www.redrobin.com/herculesmovie. These guests will then be entered into a sweepstakes for a chance to win a trip for two to Los Angeles, a tour of Paramount Pictures Studios and other great prizes. Red Robin Royalty™ members receive double entry into the sweepstakes for every limited edition gift card purchased. Gift cards can be purchased at participating Red Robin restaurants nationwide now through Sept. 1, as well as participating Kroger supermarket locations through July 31. For full sweepstakes rules and how to enter without purchase, visit www.redrobin.com/herculesmovie.
"Red Robin's collaboration with this summer's blockbuster 'Hercules' film gives us an exciting chance to reach moviegoers through our high-value Burgers & A Movie program," said Denny Marie Post, Red Robin's senior vice president and chief marketing officer. "The limited-time Colossus Burger is an epic flavor combination, making Red Robin the perfect destination before or after seeing 'Hercules'."
"Hercules" stars Dwayne Johnson as both man and myth, leading a band of mercenaries to help end a bloody civil war in the land of Thrace and return the rightful king to his throne. A tormented soul from birth, Hercules has the strength of a God but feels the suffering of a human. Unimaginable villains will test the mythical power of Hercules in director Brett Ratner's gritty take on one of the most epic action heroes of the ages. The film also stars Ian McShane, Rufus Sewell, Joseph Fiennes, Peter Mullan, Aksel Hennie, Ingrid Berdal, Reece Ritchie, Tobias Santelmann, Rebecca Ferguson, Isaac Andrews and John Hurt.
"Hercules" is produced by Beau Flynn, Barry Levine and Brett Ratner. Based on Radical Comics' "Hercules" by Steve Moore, with a screenplay by Ryan J. Condal and Evan Spiliotopoulos. Directed by Brett Ratner.
Additionally, Red Robin and "Hercules" fans alike can also take advantage of a free movie ticket deal and restaurant discount:
Anyone who purchases a $25 limited edition "Hercules" gift card will receive a free movie ticket to see the film when they enter the gift card code at www.redrobin.com/herculesmovie.
Any guest who sees "Hercules" during opening weekend and brings their ticket stub into participating restaurants from Monday, July 28-Thursday, July 31, will receive $3 off their visit.

7. 'Chronicle' Director Josh Trank To Helm One Of The 'Star Wars' Spinoff Movies (via Huffington Post)
Trank is directing the race-bending
Fantastic Four
film, so get ready for some interracial casting boys!
StarWars.com
released a statement a while back about this. The date is conspicuously absent:
In addition to the episodes of a new Star Wars trilogy, Lucasfilm and Disney continue development of multiple stand-alone movies that will offer new stories beyond the core Saga. The newest director to come on board is Josh Trank.
"We're thrilled to welcome Josh into the family," says Lucasfilm president Kathleen Kennedy. "He is such an incredible talent and has a great imagination and sense of innovation. That makes him perfectly suited to Star Wars, and for this new slate of movies that reach beyond the core characters and storylines of Episodes I through IX."

Trank states, "The magic of the Star Wars Universe defined my entire childhood. The opportunity to expand on that experience for future generations is the most incredible dream of all time."

Trank captured imaginations worldwide with his critically lauded directorial debut Chronicle, a fresh and engaging take on the superhero genre. Trank is currently at work on The Fantastic Four for 20th Century Fox.


6.
Superman is a Brand
(The Nerds of Color)
Jamal Igle talks about why
Earth 2's
new "black" Superman works.
5.
More BATMAN V SUPERMAN Set Photos Surface
(via Comic Book Movie)
Not much, but I wonder if the ambulance is for Batman or Superman?
4.
Facts You May Not Have Known About GHOSTBUSTERS
(via He Geek She Geek)
3.
Netflix's 'Daredevil' Casts Vincent D'Onofrio As Wilson Fisk
(via Variety)
I can see it. He's got an intensity that works.
2.
Ruby Dee Dead: Legendary Actress And Civil Rights Activist Dies At 91
(via Huffington Post)
Ruby Dee was nominated for the Academy Award for Best Supporting Actress in 2007. She was the recipient of
every award you could ask for including Grammy
,
Emmy
,
Obie
,
Drama Desk
, Screen Actors Guild Award, and Screen Actors Guild Lifetime Achievement Awards as well as the National Medal of Arts and the Kennedy Center Honors. The only genre movie she's done in her long and illustrious career was
Cat People
(1982). But she's such an important figure I had to post some kind of tribute. She'll be missed.
1.
BIRDMAN Trailer: Michael Keaton Looks for a Revival in Alejandro González Iñárritu's Latest Film
(via Collider)
Once upon a time Michael Keaton was a famous actor. Now he's just Batman...
Here's the official synopsis for Birdman:
BIRDMAN or The Unexpected Virtue of Ignorance is a black comedy that tells the story of an actor (Michael Keaton) – famous for portraying an iconic superhero – as he struggles to mount a Broadway play. In the days leading up to opening night, he battles his ego and attempts to recover his family, his career, and himself.
Reviews
Movies
Ender's Game

(2013) -
Recommended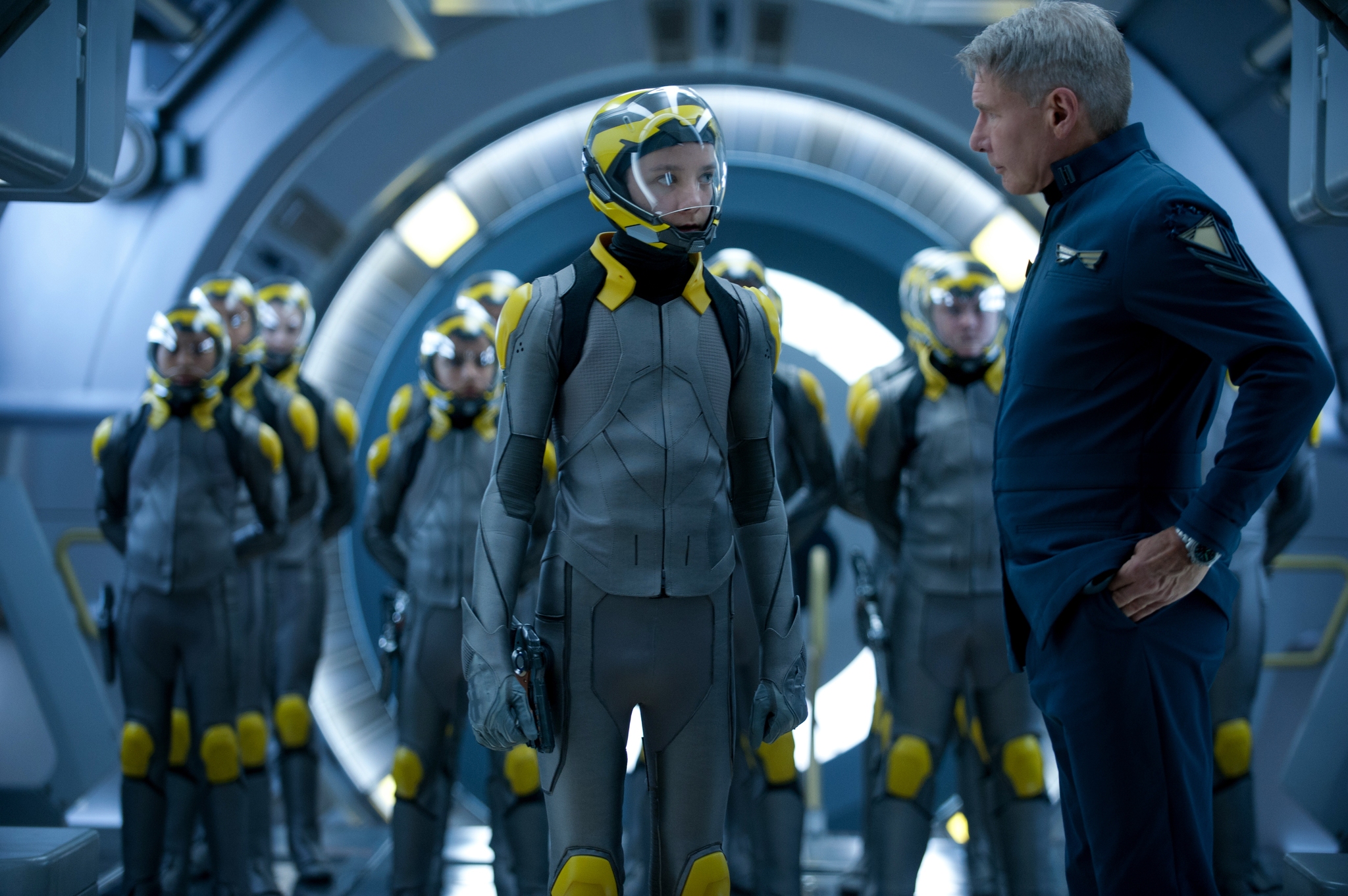 "In the near future, a hostile alien race (called the Formics) have attacked Earth. If not for the legendary heroics of International Fleet Commander, Mazer Rackham (Ben Kingsley),
all would have been lost. In preparation for the next attack, the highly esteemed Colonel Graff (Harrison Ford) and the International Military are training only the best young children to find the future Mazer. Ender Wiggin (Asa Butterfield), a shy, but strategically brilliant boy is pulled out of his school to join the elite. Arriving at Battle School, Ender quickly and easily masters increasingly difficult war games, distinguishing himself and winning respect amongst his peers. Ender is soon ordained by Graff as the military's next great hope, resulting in his promotion to Command School. Once there, he's trained by Mazer Rackham, himself, to lead his fellow soldiers into an epic battle that will determine the future of Earth and save the human
race."
I know there's a lot of hate for this film, but it's gorgeous. Cinematographer Dion Beebe did a phenomenal job creating a cold view of the future. The movie isn't as psychological as the book, but I was surprised how well they captured Ender's feeling of isolation and paranoia. Butterfield did a good job and Ford was subtable as the gruff and determined commander. In the end, Gavin Hood made a great adaptation of the book and takes sci-fi in new directions.




Edge of Tomorrow

(2014)
"Major William Cage (Cruise) is an officer who has never seen a day of combat when he is unceremoniously dropped into what amounts to a suicide mission. Killed within minutes, Cage now finds himself inexplicably thrown into a time loop—forcing him to live out the same brutal combat over and over, fighting and dying again…and again. But with each battle, Cage becomes able to engage the adversaries with increasing skill, alongside Special Forces warrior Rita Vrataski (Blunt). And, as Cage and Rita take the fight to the aliens, each repeated encounter gets them one step closer to defeating the enemy. Liman is directing "Edge of Tomorrow" from a screenplay by Christopher McQuarrie and Jez Butterworth & John-Henry Butterworth, based on the novel entitled All You Need is Kill by Hiroshi Sakurazaka."
I never saw the movie, but here are a few bloggers that did!
Comic Books
All you Need is Kill

(2014) - Chapter 1
I didn't get to watch
Edge of Tomorrow
, but I did get to read the first issue of the Japanese manga comic based on the book. The illustrations are by Takeshi Obata, storyboards by Ryōsuke Takeuchi, and character designs by Yoshitoshi ABe. The book is different from the movie since the main character Keiji Kiriya is a young recruit and faces some of the same challenges as any teenager does fitting in. Then he dies. Then he comes back. Then he tries to get away from the battle and dies anyway. It's real mind-blowing and I'm looking forward to seeing how closely the movie matches the comic at least.
What do you think of this week's links
?
If you enjoyed this, then please use the buttons below to tell your friends about this post! Follow us!
Email
|
RSS
|
Twitter
|
Facebook