Geek Bits: Why Jaden Dresses as Batman, Ava DuVernay Met Marvel and More Links
Above Image:
Jaden Smith Wears Batman Costume to "Protect Everyone," Remains Super Weird
(via The Hollywood Gossip)
I'd love to hear what you think of the Internet's strangest and geekiest moments in this week's "
Geek Bits
."
Links
Where Do Your Favorite Fighting Games Actually Take Place? (via He Geek She Geek)

SUPERMAN's 10 WEIRDEST Powers (via Newsorama)
Marvel Wants Beyoncé...but Who Could She Be? (via Movie Pilot)
A Space Blogyssey Asks TO DELETE OR NOT TO DELETE Old Blog posts? (via A Space Blogyssey)

Sony Hack Reveals 'Spider-Man' Is Required To Be White (via io9)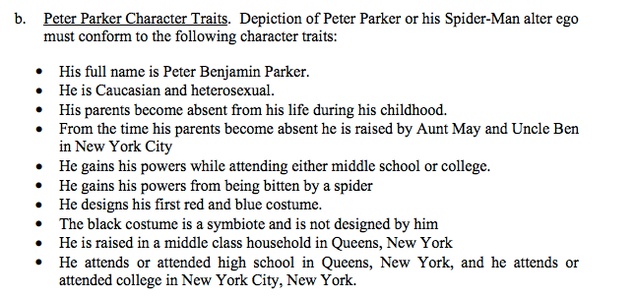 Miles Morales Is Spider-Man in Marvel Comics' Relaunch
"Our message has to be it's not Spider-Man with an asterisk, it's the real Spider-Man for kids of color, for adults of color and everybody else. Many kids of color who, when they were playing superheroes with their friends, their friends wouldn't let them be Batman or Superman because they don't look like those heroes but they could be Spider-Man because anyone could be under that mask. But now it's true. It's meant a great deal to a great many people." - Brian Bendis


Not to Be Outdone by Zookeepers, Chris Pratt Recreates Raptor Training With Kids in a Hospital

(via

The Mary Sue)
"We've met with her for sure," Feige confirms. "We've met with a number of people for a number of movies. She has been one of them… We need to find the best director for any given movie, and that's really where we always start. If diversity is part of that, it's great. It's important. You will start to see things across the industry as a whole change as more filmmakers come up through the ranks and become part of making movies like this."
Reviews
Television
Star Trek: The Animated Series
- "Pirates of Orion" (02x01) -
Recommended
Official synopsis:
"Her crew still recovering from a recent shipwide outbreak of choriocytosis, the Enterprise is en route to the dedication ceremonies for Deneb V's new Academy of Sciences. On the way, Commander Spock succumbs to the very disease from which the rest of the crew has already recovered. Because Vulcans have copper-based blood, choriocytosis — which afflicts humans no more severely than does pneumonia — will prove fatal to Spock, unless a supply of a counteragent known as strobolin can be found within three days' time.
"
The second season starts out with a bang as Spock is felled by an illness that can only be cured by a substance stolen by pirates.
The episode is fast-paced and showcases Kirk's diplomatic skills instead of his quick draw on the phasers. It's worth watching only for the animation. While it's still limited they obviously got more bold and increased the movements.
T
he real star is the incredible paintings they did for the episode. It's full of colors and vibrant. A great episode.
Read the rest of the posts in the blog hop! If you want to join us
click here to enter your blog
!
Movies
Inside Out
(2015) -

Recommended
"Riley (Kaitlyn Dias) is a happy, hockey-loving 11-year-old Midwestern girl, but her world turns upside-down when she and her parents move to San Francisco. Riley's emotions -- led by Joy (Amy Poehler) -- try to guide her through this difficult, life-changing event. However, the stress of the move brings Sadness (Phyllis Smith) to the forefront. When Joy and Sadness are inadvertently swept into the far reaches of Riley's mind, the only emotions left in Headquarters are Anger, Fear and Disgust."
This is the best Pixar movie since Toy Story and is an incredibly complex story. One one level it's just a cute kid's movie about Joy and Sadness running around and having a funny adventure in the memories of a child. On the other hand it's a complex and tightly written story about highly developed characters dealing with the real world. On a final level it's a wonderful exploration of psychology and how we deal with emotions. Whichever way you look at it, it's marvelous. Amy Poehler does an amazing job as the perpetually happy, but not annoying. Phyllis Smith as Sadness is vulnerable and caring while living with the realization that no one wants her. Lewis Black is one of my favorite comics and is perfect as Anger.
Blog Review Round-Up
If you enjoyed this, then please use the buttons below to tell your friends about this post! Follow us!
Email
|
RSS
|
Twitter
|
Facebook