Geek Bits: Jesse Eisenberg Lex Luthor Details, Spock on a Unicorn and More [Links]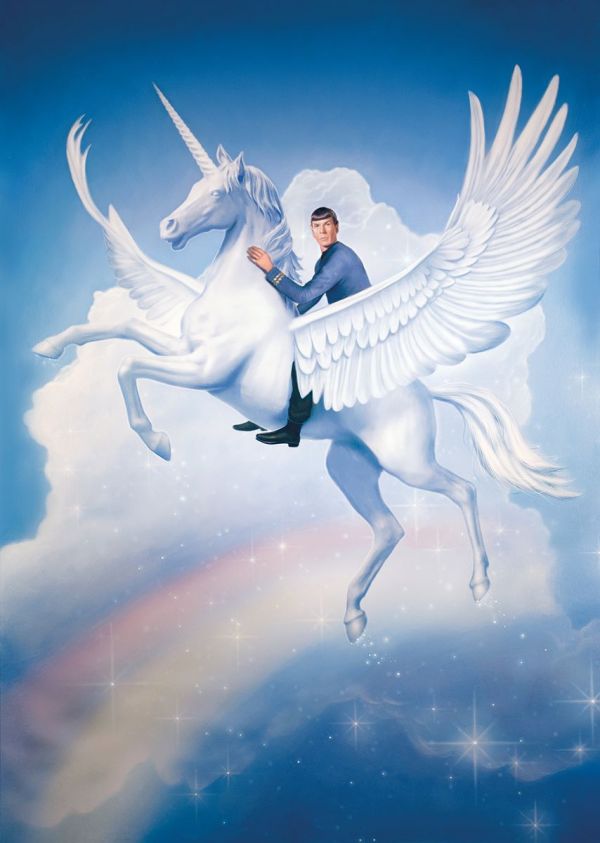 Transformers 4
trailer? Why is
Troll 2
so awesome! How are they filming
Jurassic World
?
Find out all of the Internet's greatest moments in this week's "
Geek Bits
." I'd love to hear what you think about them.
Above image:
"Spock Riding an Alicorn over a Rainbow" by
Tim O'Brien
via
Neatorama
Links
10. Renaming Football Teams After The Star Wars Universe
(via Neatorama)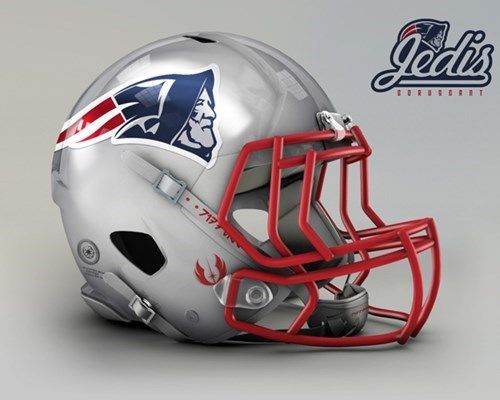 Graphic Designer John Raya reimagines NFL/football team logos based on elements from the Star Wars universe, with team names like the Hoth Tauntauns, Coruscant Jedis and Mos Eisley Troopers that might actually work for the NFL.
Would you like to rename a sports team after the Star Wars Universe?
9. "Transformers: Age of Extinction" Trailer Analysis
(via Screen Rant)
If you were confused by the new trailer for
Transformers: Age of Extinction
then read this article for the breakdown. What did you think of the trailer?
8.
'Jurassic World' Will Shoot on Film, Partially in 65mm
(via /Film)
Briefly: While the film and television industry has already shifted almost entirely to digital, there are still a few filmmakers holding on to film as a medium for capturing images. Turns out Colin Trevorrow is one of them, and his movie Jurassic World will be shot on film. Even better, some of it will be shot on large 65mm film. John Schwartzman (The Amazing Spider-Man, Armageddon, The Rock) is the cinematographer.
The info comes straight from the director:
Honored to be working with cinematographer John Schwartzman on Jurassic World, shooting this April on 35mm and 65mm film. @Kodak @Panavision
— Colin Trevorrow (@colintrevorrow) February 6, 2014
Are you glad that the
Jurassic Park
sequel won't be digital?
7. ABCs of Star Wars
(via Blastr)
Which is your favorite letter?
6.
Critical Opinion: The Empire Strikes Back's Original Reviews
(via Star Wars Blog)
"The Empire Strikes Back is not a truly terrible movie. It's a nice movie. It's not, by any means, as nice as Star Wars. It's not as fresh and funny and surprising and witty, but it is nice and inoffensive and, in a way that no one associated with it need be ashamed of, it's also silly. Attending to it is a lot like reading the middle of a comic book. It is amusing in fitful patches but you're likely to find more beauty, suspense, discipline, craft and art when watching a New York harbor pilot bring the Queen Elizabeth 2 into her Hudson River berth, which is what The Empire Strikes Back most reminds me of. It's a big, expensive, time-consuming, essentially mechanical operation. The Empire Strikes Back is about as personal as a Christmas card from a bank." - Vincent Canby wrote this in
The New York Times
Published on June 15, 1980.
Do you think the critics were right?
5.
Controversial Super Bowl Coke Commercial Adds Klingon; No Response Yet From Space Racists
(via The Mary Sue)
<iframe width="560" height="315" src="//www.youtube.com/embed/18mS4cLPOb8" frameborder="0" allowfullscreen></iframe>
Do you think the commercial would have been better in Klingon?
4.
The adorable Hawkeye nod in the Captain America: The Winter Soldier promo pics
(via Geek With Curves)
What do you think the arrow necklace means?
3.
Doctor Doom Could Be a Woman in FANTASTIC FOUR Reboot
(via Geek Tyrant)
Director
Josh Trank
and Fox are still in the process of casting the main characters for their reboot of
Fantastic Four
. As of right now,
Michael B. Jordan
is attached as Johnny Storm and
Miles Teller
will most likely end up in the role of Reed Richards.
THR
is now reporting that
Kate Mara
and
Emmy Rossum
have tested for the part of Sue Storm. The report also says that an actor named
Christian Cook
has tested for Ben Grimm, a.k.a. The Thing. I have no idea who he is, though. But this is the interesting part of the article!
Buried in the article is a quote that says Doctor Doom could actually be played by a woman, which would be incredibly interesting. This is the statement,
"The studio is likely to go for a big name and isn't ruling out switching genders for the role."
They've already switched things up by casting a black man as the "Human Torch." What would you think of a female Doctor Doom?
2.
7 STAR WARS Character Rings with Rancor, Ackbar, and More
(via GeekTyrant)
1.
Jesse Eisenberg is Lex Luthor in

Man of Steel 2
I kinda love the look of this fan poster tweeted by
Chris Gore
.
[They've] compiled a bulleted list of the details from the report below. According to
Latino-Review
:
Lex Luthor will be bald. (Shaved bald, not follicly challenged bald.)
He's way into tattoos and has a sleeve of the Metropolis skyline.
He's the richest man in the world – a tech genius and ruthless businessman – and became a self-made billionaire at age 18.
In his teens, Lex was a "street tough" and the head of a street gang (hopefully, we'll see flashbacks of him and his buddies with their sleeves rolled up, switchblades in-hand).
Apparently, Bruce Wayne – sometime in the past – called Lex an "amoral, arrogant brat," so they don't like each other; Lex also resents that Wayne was born into wealth.
Bruce Wayne comes to town to help rebuild Metropolis after the battle in Man of Steel; he wants Wayne Enterprises to pool its resources with LexCorp. Lex agrees.
Lex thinks of Superman as an "alien," a "trespasser" on Earth; Bruce Wayne thinks of Superman as an "impressive specimen." Whereas Lex believes Superman can (and presumably should) be killed, Bruce Wayne thinks they can resolve their problems peacefully.
The report also heavily implies that Luthor guesses that Bruce Wayne is Batman.
What do you think of the casting?
Reviews
TV
Marvel's Agents of S.H.I.E.L.D.

(01x ) "T.R.A.C.K.S."

Not Recommended

Official Synopsis:

Hot on the trail of the Clairvoyant, Coulson and his team board a mystery train that seems to be headed for certain death, on "Marvel's Agents of S.H.I.E.L.D."

This episode epitomizes what's wrong with Agents: unfulfilled expectations. There were some funny moments though as Ward and Coulson struggled with the holotable and Stan Lee makes a cameo. While the fights were excellent and the story is engaging the biggest disappointment was the return of Mike Peterson as Deathlok. They hyped him up as the first major comic villain and he didn't live up to the hype. So far, that's the pattern of this show. I still love it, but my patience is wearing thin.

What did you think of the episode?

Arrow

(02x13) "Heir to the Demon"

Recommended

Official Synopsis:

ALEX KINGSTON AND KATRINA LAW ('œSPARTACUS') GUEST STAR '" As Laurel (Katie Cassidy) continues to unravel, Oliver (Stephen Amell) and Lance (Paul Blackthorne) try to convince Sara (guest star Caity Lotz) to stay in Starling City and finally reunite with Laurel and Dinah (guest star Alex Kingston). However, Sara'™s fellow League of Assassins member, Nyssa (guest star Katrina Law, 'œSpartacus'), comes to bring Sara back to the fold, but when Sara refuses, Nyssa kidnaps Dinah. Realizing she'™s putting her family in danger by staying in town, Sara considers re-joining the league. Wendey Stanzler directed the episode written by Jake Coburn (#213).

This was a shocking episode from beginning to end and the show had me at every twist. I like Nyssa a lot more than I needed to and Sara's character just gets more and more complex. Unlike last week's episode, the story carried the characters forward to new places. Great stuff, but Diggle did nothing again.

What did you think of the episode?

Helix

(01x01) "Pilot"

Not Recommended

Official Synopsis:

Helix is an intense thriller about a team of scientists from the Centers for Disease Control who travel to a high-tech research facility in the Arctic to investigate a possible disease outbreak, only to find themselves pulled into a terrifying life-and-death struggle that holds the key to mankind's salvation or total annihilation.

I caught the first episode of this new SyFy show and it just doesn't grab me. It has a great claustrophobic feel and builds a lot of tension, but I just can't tell where they're going with it. Is it horror? Supense? Medical procedural drama? I'll wait to see how many episodes they get in before putting in the time to watch it.

What did you think of the episode?
Movies
Best Worst Movie (2010)
Recommended
Official Synopsis:
In 1989, a group of unknown Utah actors starred in what would be crowned the worst movie of all time: Troll 2. Now, after two decades of running from this cinematic disaster, the cast can no longer hide from the legion of followers who celebrate them for their ineptitude.
BEST WORST MOVIE, directed by Troll 2's once-disgraced child star, Michael Paul Stephenson, unravels the stories of these unforgettable real-life characters and the colorful army of devotees who continue to revel in the film's perfectly flawed brilliance. At the center of this celebrated documentary is the improbable story of a small-town Alabama dentist-turned-cult-movie-icon, and an Italian filmmaker who comes to terms (or doesn't) with his internationally revered cinematic failure.
BEST WORST MOVIE is an affectionate and intoxicatingly fun tribute to the single greatest bad movie ever made and the people responsible for unleashing it on the world. The result is a hilarious and tender offbeat journey that pays homage to lovers of bad movies and the people who make them, while investigating a deeper story about the strange nature of celebrity, the catharsis of redemption and the humanity that exists in making even the worst movie ever made.
"You don't piss on hospitality. I won't allow it!" I've watched parts of
Troll 2
and it's awful in every sense of the word. But, my brother recommended this documentary and I love it. I love bad movies, but never thought about what it's like to make a bad movie and then look back on it years later. It's also heartwarming to see the actors get embraced by fans.
What do you think of this week's links
?
Please use the buttons below to tell your friends about this post. Click on the links to follow us for free by
Email
,
RSS
and follow us on Twitter
@thegeektwins
and like us on
Facebook
Follow @Thegeektwins