Geek Bits: Video Proof Han Shot First? Plus More [Links]
Simpsons

(2013) - Bart Simpson (Nancy Cartwright) writing "We'll really miss you, Mrs. K" on the blackboard. Source
Who's better: Thor or Loki? How much would Thor's castle cost? What would a real-life Thor hammer look like? Would you like Wash as your co-pilot? Should the new Ms. Marvel be on the "no-fly" list?
Above Image: Sadly, Marcia Wallace, the voice of Mrs. Krabappel on the
Simpsons
, died on October 25 at age 70. Her death was attributed to complications of pneumonia. The opening credits of the 533rd episode, "Four Regrettings and a Funeral" had Bart writing the single line "We'll really miss you, Mrs. K." An "in memoriam" message and photo of Wallace appeared before the end credits.
White House Down

(2013) Giveaway
We've partnered with
FilmBook
to give away one copy of the Roland Emmerich film
White House Down
, about a paramilitary attack on the White House by and the Capitol Police Officer who tries to stop them. The contest began on Nov 5, 2013 and ends on Nov 26, 2013 at 11:59 pm.
a Rafflecopter giveaway
FilmBook, a
movie website
, in conjunction with
start a movie website
ProMovieBlogger, and
film awards website
Trending Awards, are sponsoring this giveaway.
Here are this week's geekiest bits of the Internet this week. I'd love to hear your thoughts on them.
Links
10. Loki Asks Kids Who's Better... Thor or Loki?
(via Geek Tyrant)
9.
Firefly: "Wash Is My Copilot" License Plate Frame
Who better to copilot your ride than Hoban "Wash" Washburne (
Alan Tudyk)? Show your Browncoat roots with this

Firefly
"Wash Is My Copilot" License Plate Frame
. I'm a leaf in the wind...
8. Stephen Colbert On Marvel's New Muslim Superhero – "For Pete's Sake, They're On The No Fly List"
(via Bleeding Cool)
Comedy Central's Stephen Colbert always manages to make a hilarious tongue-in-cheek approach to political issues. This time it's the announcement that Marvel's new Ms. Marvel will be a Muslim. Sixteen-year-old Kamala Khan is a Pakistani-American teenager from Jersey City. "At her core, Kamala is just a 16-year-old girl, exploring the many facets of her identity when she is suddenly bestowed with super-human powers that send her on the adventure of a lifetime," Marvel Comics Editor-in-Chief Axel Alonso said in a release. I'm shocked at the hatred and bigotry towards the announcement. One person Twittered a thinly-veiled terrorist joke: "She's the 'Bomb.'"
I've never understood why it's socially acceptable to mock a minority like Near Eastern people endure. Anyway, here are his best jokes. Remember: they're sarcastic.
"This affront has taken me aback. A Muslim can't be a superhero, for Pete's sake, they're on the no fly list."
"Folks, if she can shape shift, then literally anything could be Muslim, a lamp, a sandwich, tiger, a non threatening Muslim."
"It's even more upsetting when you consider the original Ms Marvel, she was wholesome and all American, blonde, family values, with two bulging chest muscles and clearly wearing her Sunday church panties."
7. Harrison Ford and the origin of that Star Wars scene
(via Scouring Monk)
Harrison Ford guest-starred as Hobey in a 1973 episode of "Gunsmoke" (Season 18, Episode 20) "Whelan's Men."
Tony noticed it's eerily similar to the scene in
Star Wars
were Greedo shot Solo...first!
6. How Much Would Thor's Castle Cost?
5.
Real-Life Thor's Hammer Forged by Man At Arms
(via Geek Tyrant)
Master swordsmith Tony Swatton is back with another Man At Arms episode. This time he takes us through the steps of forging Thor's Hammer, Mjölnir.
It's a lot of work, so you could make yourself a
Thor papercraft hammer
(thanks to Tektonen). Just don't try to hit Dark Elves with it.
4. Brand new RoboCop trailer shows how to play "Bad Cop, RoboCop"
(via io9)
3. New X-Men: Days Of Future Past Picture
(via Empire)
20th Century Fox has released a new
X-Men: Days Of Future Past
pic showing Michael Fassbender's Magneto, circa 1970, in a suit that's evolving as fast as his mean streak. Spotter's badge to
Superhero Hype
for digging this one up and giving another glimpse of the stylish maroon threads we know and love. But where's the helmet?
2. Awesome VOLTRON Costume Hoodie
(via Geek Tyrant)
"Form feet and legs! Form arms and torso! And I'll form the head!
"
"Voltron was one of my favorite cartoons growing up, and this hoodie featuring the giant attack robot is freakin' cool! With the holidays right around the corner this would make a great gift for a geeky loved one. You would really need to love the person to, because this thing costs $160! It's so awesomely detailed though! All it needs now is a matching pair of blue and yellow lion sweat pants! If you want to [buy] it, click here."
1. 'THOR: THE DARK WORLD': 7 Things to Know About the Marvel Sequel *(Spoiler-Free)
(via Washington Post)
3. Hemsworth and Portman are Marvel's top movie couple.
Marvel movies don't always pack the romance. In the "Captain America: The Winter Soldier" trailer, Cap says he has no time to date. The Hulk has emotional issues. And who knows what's going on with Hawkeye and Black Widow? What about Tony Stark and Pepper Potts? No, not even they can top Hemsworth's Thor and Portman's Jane. The two actors capture lightning in a bottle, and are a joy to watch as a couple.
I thought they're performance was weak as an on-screen couple, so it's good to know they have better chemistry now.
Reviews*
(*All reviews are spoiler free)
TV
Marvel's Agents of S.H.I.E.L.D. (01x06) "FZZT" (Recommended)
Synopsis:
"When floating bodies turn up, Coulson and the Agents of S.H.I.E.L.D must hunt down an elusive killer. No one is safe — not even the team"
My brother and I already talked about the show, but maybe this episode will change his mind. The episode, written by Paul Zbyszewski, finally got me to care about Agent Ward (
Brett Dalton
) by making fun of him.
Agent Coulson (Clark Gregg) gets to deal with his own mortality. Fitz
(Iain De Caestecker) and Simmons (
Elizabeth Henstridge
) start to take their relationship to the next level. The Avengers movie tie-in of a Chitauri helmet is brilliant.
The ratings have continued their
downward slide to 7.15 million
, but that's only down slightly from 7.39 million last week. The show's already gotten a full season order, so it's safe.
Arrow (02x05) "League of Assassins" (Recommended)
Synopsis:
"While Oliver tends to the Canary's wounds, he tries to get her to talk about where she came from but she refuses. However, after Oliver and the Canary are attacked at the Queen mansion by a trained killer from the League of Assassins, she confesses to how she's connected with the nefarious group. Meanwhile with Moira facing multiple counts of murder and conspiracy for her part in the destruction of The Glades, the Assistant District Attorney offers her a choice - plead guilty now and avoid the death penalty or take your chances in court. Thea begs her mother to fight for her life but Moira seems resolute about taking the offer. Meanwhile, Oliver is furious with Laurel for joining the prosecution's team on his mother's case."
Some great things came out of this episode. Oliver Queen (Stephen Amell) comes to terms with lying about Sara's (
Caity Lotz
) disappearance. They finally explain Malcolm Merlyn's (
John Barrowman
) incredible fighting skills by saying he was trained by Ra's Al Ghul for the "League of Assassins." This, by the way, finally confirms that the show is not tying into
Batman Begins
portrayal of Ra's Al Ghul. In the movies they're known as the "League of Shadows." They explained Sara's absence and shame by revealing her past and revealed another comic book tie-in with the mad scientist
Doctor Anthony Ivo
(
Dylan Neal
). Black Canary is the best example of a strong fighting woman I've seen on TV in a long time. Great episode.
Movies
After Earth (2013) (Not Recommended)
Synposis: "
In After Earth, one thousand years after cataclysmic events forced humanity's escape from Earth, Nova Prime has become mankind's new home. Legendary General Cypher Raige (played by Will Smith) returns from an extended tour of duty to his estranged family, ready to be a father to his 13-year-old son, Kitai (played by Jaden Smith). When an asteroid storm damages Cypher and Kitai's craft, they crash-land on a now unfamiliar and dangerous Earth. As his father lies dying in the cockpit, Kitai must trek across the hostile terrain to recover their rescue beacon. His whole life, Kitai has wanted nothing more than to be a soldier like his father. Today, he gets his chance."
A lot of people bashed this movie, but it's not terrible. Most of the film has Kitai (Jaden Smith) acting alone with CGI creatures and backgrounds. That's really hard for any actor, but Jaden Smith doesn't have the acting skill to pull it off. Most actors don't. He spends most of his time crying or whining. Or both. The other big problem is that the normally likeable Will Smith has to play an emotionless hardcase. So you have two guys you don't really like for two hours. It's beautiful though.
Ender's Game
(2013) Movie Review Round-Up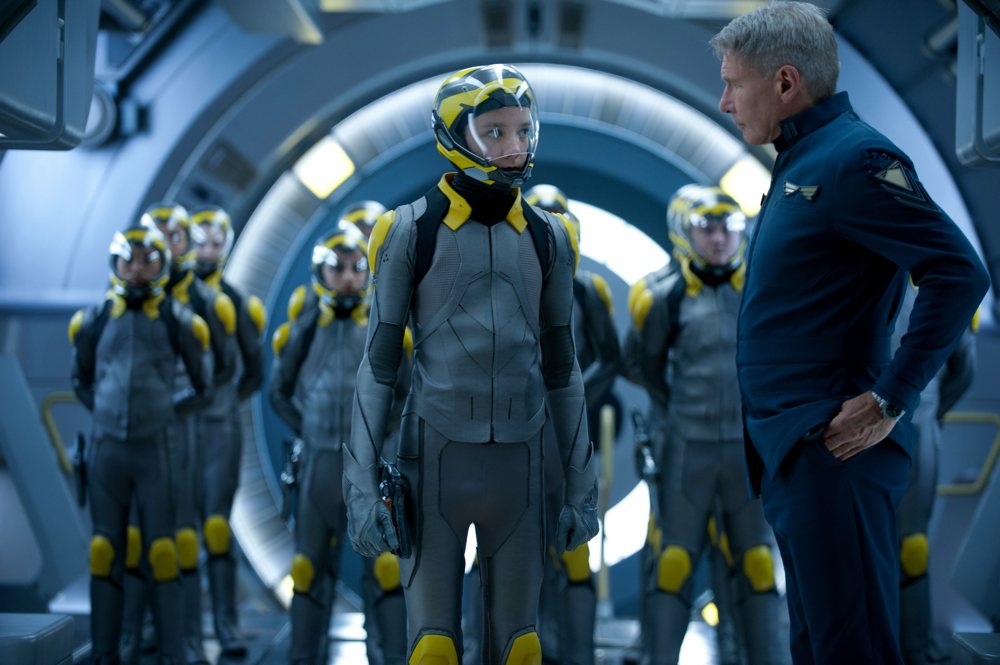 Synopsis:
"In the near future, a hostile alien race (called the Formics) have attacked Earth. If not for the legendary heroics of International Fleet Commander, Mazer Rackham (Ben Kingsley), all would have been lost. In preparation for the next attack, the highly esteemed Colonel Graff (Harrison Ford) and the International Military are training only the best young children to find the future Mazer. Ender Wiggin (Asa Butterfield), a shy, but strategically brilliant boy is pulled out of his school to join the elite. Arriving at Battle School, Ender quickly and easily masters increasingly difficult war games, distinguishing himself and winning respect amongst his peers. Ender is soon ordained by Graff as the military's next great hope, resulting in his promotion to Command School. Once there, he's trained by Mazer Rackham, himself, to lead his fellow soldiers into an epic battle that will determine the future of Earth and save the human race."
Not a lot of bloggers saw
Ender's Game
last week (including myself), but here are the best I've run into. Make sure you head to the sites to read the whole review.

What do you think of this week's links? Are you seeing Thor: The Dark World this weekend
?
Please use the buttons below to tell your friends about this post. Click on the links to follow us for free by
Email
,
RSS
and follow us on Twitter
@thegeektwins
and like us on
Facebook
Follow @Thegeektwins