Geek Bits: LaForge Cries, Best Wonder Woman costumes and More [Links]
What's the greatest movie ever?  Where can you see a retro game of Donnie Darko? Why did Geordi LaForge Cry?
What's your super-villain name? Mine is "The Dark
Clown
Lord" which fits pretty well. 
I'd love to hear what you think of the Internet's greatest moments in this week's "
Geek Bits
."
By the Way... 
Did you know that my brother and I rarely work together on posts? I'm usually as surprised as you are about what comes out my brother's brain. :)
Links
10.
Would Marvel Really Cancel Fantastic Four To Snub Fox?
(via Bleeding Cool)
Is Marvel killing the Fantastic Four comic books to stop promoting 20th Century Fox movies?
"A Marvel source that Marvel are intending to put the Fantastic Four comic books on hold, both Marvel Universe and Ultimate. The characters will still appear, but in other folks' books such as Inhuman and Avengers. And that artwork featuring the Fantastic Four is even being taken down in the company offices."

9.
'World War Z' Sequel Gets an Oscar-Nominated Screenwriter
(via ScreenRant)
2013 was a good year for Brad Pitt; he not only won an Oscar for producing last year's Best Picture winner 12 Years a Slave (which he also costarred in), but also headlined the first (lucrative) installment in a budding franchise, World War Z. The sequel to Pitt's zombie apocalypse thriller has been slow to develop over the past year – much slower than the infected creatures in the film move, anyway – but it may start picking up speed, now that it has a writer in place.
8.
Empire Strikes Back and Nerd Favorites Top Empire's Greatest Films Fan Poll
(via The Mary Sue)
Guess which film is the number one movie? Apparently
The Empire Strikes Back
is better than every other movie ever made.
What is there to say about a list that would posit that there are only two hundred and twenty three films in history that have been better than Star Wars: Episode III – Revenge of the Sith?
7.
James Cameron Producing 'Avatar' Cirque du Soleil Show, the Group's First-Ever Movie Show
(via /Film)
Would you go to this show?
We know an Avatar Land is in the works for Walt Disney World's Animal Kingdom and now Cameron is teaming up with Cirque du Soleil to create a live-action, touring show based on the film. It will be Cirque's first movie-themed show ever. Cameron and Cirque teamed up for the 2012 film Cirque du Soleil: Worlds Away, so this isn't necessarily a surprising development. What's cooler about it than anything is maybe it opens the door to more movie themed Cirque shows. Music superstars like The Beatles, Michael Jackson and Elvis all have shows. Why not something like Star Wars or Lord of the Rings? Once again, Cameron opens doors.
6.
Wonder Woman Costume Designs We'd Love To See On The Big Screen
(via io9)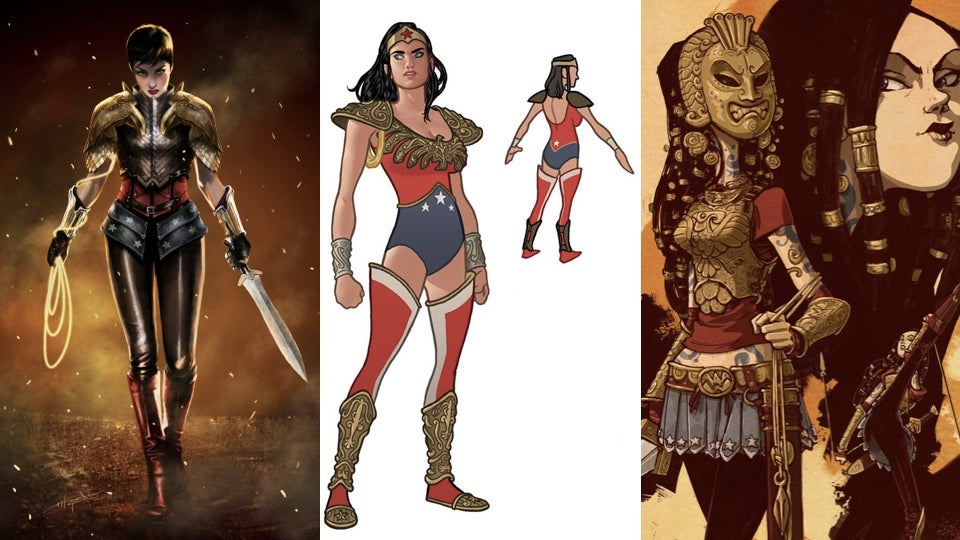 Rumor has it that Gal Gadot's Wonder Woman will be rocking pants and jacket in Batman V. Superman: Dawn of Justice. It's a look that could work, but it's hardly the only one. After all, there are tons of fan-made Wonder Woman costume designs that could be spectacular onscreen.
5.
DONNIE DARKO 8-Bit Cinema
(via GeekTyrant)
4.
New International TV Spot For Michael Bay's TRANSFORMERS: AGE OF EXTINCTION
(via Comic Book Movie)
3.
John Wesley Shipp Cast as Henry Allen in THE FLASH
I've got a
love\hate relationship
with the 90s Flash show, so this is great news. It's the best, and worst, superhero show ever. But it was canceled too soon.
Given his history with The Flash, Andrew [Kreisberg], Geoff [Johns] and I could only think of one person we wanted to play Barry's father and that was John Wesley Shipp," Flash executive producer Greg Berlanti said in a statement. "He gives a fantastic and emotional performance in the pilot and we are looking forward to his presence in many more episodes. Also, personally, it was just wonderful to work with him again since my days at Dawson's Creek. He's a great actor and a great guy.
2.
Reading Rainbow Kickstarter Breaks $1 Million In A Day, LeVar Burton Breaks Down In 
Shed a tear with Geordi LaForge.
LeVar Burton blew the internet away yesterday when he published a Kickstarter for a relaunched Reading Rainbow. And then the internet blew LeVar Burton away and gave him $1 million in 11 hours. Grab some tissues and watch his reaction. For the record, it's currently sitting around $1.8 million. Hooray!!
1.
The 50 Greatest X-Men Stories Ever Told
(via Comic Book Resources)
Not just "Days of Future Past."
Reviews
Movies
X-Men: Days of Future Past

(2014)
Recommended
Official synopsis: The ultimate X-Men ensemble fights a war for the survival of the species across two time periods in X-MEN: DAYS OF FUTURE PAST. The beloved characters from the original "X-Men" film trilogy join forces with their younger selves from "X-Men: First Class," in an epic battle that must change the past – to save our future.
The word "epic" is thrown around a lot, but this movie lives up to the word. Bryan Singer returns to the franchise and creates a massive and multi-leveled film that is so enjoyable you can forgive both
X-Men 3
and
X-Men Origins: Wolverine
. He brings out the best performance out of old and new actors to the series and every character hits you in the gut with an emotional punch. It's one of those rare ensemble films that manages to allow you to connect with all the characters on some level. It has a wonderful theme of redemption as every character from Wolverine to Mystique is searching to redeem themselves of past mistakes. The standout scene is the Quicksilver one which is shows him taking out a room of guards while moving at high-speed and is the most visually stunning scene in the series. It even has cameos from old cast members which I won't spoil. Is it the best of the series? Yes.
Here are some brilliant reviews from the blog-o-sphere
Books
The Simon and Kirby Library: Horror (The Simon & Kirby Library)
(March 2014)

Recommended
*
Official Synopsis: From the Golden Age of the comic book era comes an unrivalled collection of terrifying tales that thrilled readers and appalled a nation! For the first time, all of the stories written and drawn by Joe Simon and Jack Kirby themselves, as well as a selection of rarely seen collaborations, are collected in one huge hardcover edition.
Available from Titan books, this 320 page hardcover reminds us that the dynamic duo of Simon and Kirby dominated comics on all levels. While this book of "true life" horror stories has some hokey turns, it's gripping, thrilling and gorgeous. It's a great look back at the Golden Age of comic books.
What do you think of this week's links
and reviews?

* Disclaimer: Some products for review provided by Titan Books, this in no way affects the opinion of the reviewer and do not necessarily reflect the opinions of Titan Books or related publishers.
If you enjoyed this, then please use the buttons below to tell your friends about this post! Follow us!
Email
|
RSS
| 
Twitter
|
Facebook