Geek Bits: Female Bombshell Avengers, Etch-a-Sketch "Firefly" and More [Links]
I'd love to hear what you think of the Internet's greatest moments in this week's "
Geek Bits
."
Links
10.
Han Solo in Carbonite Rugs
(via GeekTyrant)
These Han Solo rugs come in either 71"x31" for $49.99, or 90.5" x 39" for $69.99. They are a perfect way to show your love for the Star Wars character… by stepping all over his frozen face.
9.
What If Star Wars's Sound Effects Sucked?
(via io9)
Star Wars fans should count themselves lucky that George Lucas found talented sound designer Ben Burtt to bring the audible portion of his scifi universe to life. Because as this video proves, Star Wars would have been a much different movie with a less talented foley artist in charge.

8.
Pre-Order for Doctor Who: The TARDIS Edition begins
(via
Blogtor Who
)
The pre-order for the 11 disc soundtrack boxset, Doctor Who: The TARDIS Edition, has begun. Customers will be able to purchase from now until May 2 [10am BST] and can ONLY do so from the
Silva Screen website
. Check out the details below.
Doctor Who: The TARDIS Edition is a boxed set of eleven CDs collecting Original Soundtrack music from 50 years of Doctor Who and housing them in a specially constructed TARDIS, which is mainly painted wood, with a flashing light on top and makes the materialization noise when the door is opened.

Composer and BBC Radiophonic Workshop Archivist Mark Ayres has spent over a year researching, compiling, editing and mastering the set with the principle work being done on the first seven discs which will showcase much material being released for the first time.
7.
BOX OFFICE: CAPTAIN AMERICA: THE WINTER SOLDIER Likely To Stay At #1 For Fourth Week
(via Comic Book Movie)
The Amazing Spider-Man 2 will take the top spot next weekend, but for now, another superhero sequel is dominating the North American box office. Despite the fact that The Other Woman (starring Cameron Diaz, Leslie Mann, Kate Upton, and Game of Thrones' Nikolaj Coster-Waldau) is opening today, Entertainment Weekly believes that the romantic comedy will earn only around $13 million this weekend. Captain America: The Winter Soldier on the other hand is set to earn around $15 million over the next few days, and while it's possible that these numbers will alter slightly depending on word of mouth and the like, the fact that the Marvel Studios sequel will more than likely have a fourth straight week at #1 could mean that they reconsider moving Captain America 3's release date from its current May 6th, 2016 slot (and away from Batman Vs. Superman) to an April slot in which it can
6.
'Mystery Science Theater 3000′ Creator Wants a Reboot & New Hosts – Can It Work?
(via Screen Rant)
Since the end of its run in 1999, fans of Mystery Science Theater 3000 have had their memories, re-runs, and similarly themed alum-powered projects like Cinematic Titanic and RiffTrax to hold them over, but in a new oral history interview, series creator Joel Hodgson has expressed an interest in rebooting the series.
Though details are presently thin, the new iteration is primed to be a web project that starts up in the spring (so, soon?), and it will feature a new host (so, not Hodgson or Mike J. Nelson?) while also allowing for occasional guest appearances by the old cast.
5. Why It Sucks to Be Ant-Man: The Forgotten Avenger ... (via Cracked)
4.
You Haven't Seen Firefly Until You've Seen It On An Etch A Sketch
(via io9)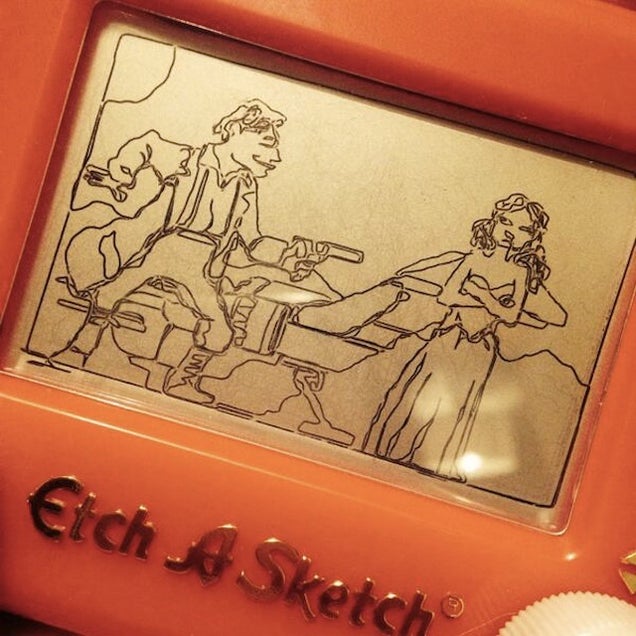 3.
'Flash Gordon' Remake Picked Up By Fox
(via Screen Rant)
About a week ago, news hit the web that camp classic Flash Gordon – the subject of Mark Wahlberg's and Seth MacFarlane's fawning adoration in 2012′s Ted – might be getting the remake treatment, with emphasis on the word "might". The announcement sounded somewhat fishy on paper, pegging Star Trek 3 writing duo J.D. Payne and Patrick McKay as the screenplay's architects while offering no mentions of a producing studio and no official source to back it up; all of these details add up to a hot rumor but not necessarily anything authoritative.But it turns out that all those rumblings about Flash Gordon's modern-day rebirth were accurate, if somewhat obscured, and that the new movie will in fact ...
2.
DreamWorks Appeals to the Black Audience
(via Black Girl Nerds)
This is right up our alley, BGNs! DreamWorks' next animated feature project is "post-apocalyptic-alien-invasion-buddy-comedy"—and check that picture, the hero is a black girl! Look at that curly hair! Since finding out about this project, I've been excited. The movie will be called Home— you can watch the first prequel through the link. It doesn't feature Tip, the main character (voiced by Rihanna), so I wasn't too moved or intrigued, but hopefully as time draws closer, there will be more animated trailers with her in it. But every time I look at the artwork, I get so happy.
1.
Star Wars Has Never Looked Prettier Than it Does in Miniature
(via The Mary Sue)
ZahirBatin's photos taken with
Star Wars
action figures are sometimes funny, sometimes sad, and sometimes just beautiful. But they all paint a picture of the every day trials of a stormtrooper. It's not all bad, though. Some times you get to meet very large baby chickens. You can find many more of Batin's photos
at their Deviantart account
.
Reviews
Warning: May contain spoilers
Television
Marvel's Agents of S.H.I.E.L.D.

(01x19) "The Only Light in the Darkness"
(Recommended)
Synopsis:
"With their world turned upside down, Coulson races to save the life of his one true love as the mystery of 'The Cellist,' which began in Marvel's The Avengers, is finally revealed."
One of the biggest complaints in S.H.I.E.L.D. is that it doesn't have any supervillains. The jailbreak in "The Fridge" gives the show the chance to do a "villain of the week" and it's a great format. The villain "Blackout" (Patrick Brennan ) had a great motivation and personal stake as it afftects his relationship with ex-girlfriend Audrey (Amy Acker). The episode is touching and exciting all at once. On another note, Ward has turned into a surprisingly terrifying villain. He's basically been killed and replaced with a whole new character.



Arrow

(02x20) "Seeing Red"

(Recommended)



Synopsis:
"ROY SPINS OUT OF CONTROL — The mirakuru sends Roy (Colton Haynes) into an uncontrollable rage and he unleashes on the city.  After Roy's deadly fight with a police officer, Oliver (Stephen Amell) realizes the mirakuru has taken over Roy completely and must figure out a way to stop him.  Things get more complicated after Sara (Caity Lotz) declares that Roy is too far gone and the only way to stop him is to kill him.  Meanwhile, Thea (Willa Holland) believes she can breakthrough to Roy so she goes on camera at Moira's (Susanna Thompson) campaign rally to lure him to Verdant.  Her ploy works but after Roy attacks Thea, Team Arrow unleashes on him.  Doug Aarniokoski directed the episode written by Wendy Mericle & Beth Schwartz (#220)."
It's weird seeing Oliver and Sara together considering how they setup the relationship with Laurel, so I'm glad they finally ended that storyline. The rampage caused by Roy across the city really setup a powerful episode emotionally and physically. Diggle got to play a major role in the episode thankfully. Moira's death was heart-wrenching.
What do you think of this week's links
?
Please use the buttons below to tell your friends about this post. Click on the links to follow us for free by
Email
,
RSS
and follow us on Twitter
@thegeektwins
and like us on
Facebook
Follow @Thegeektwins